---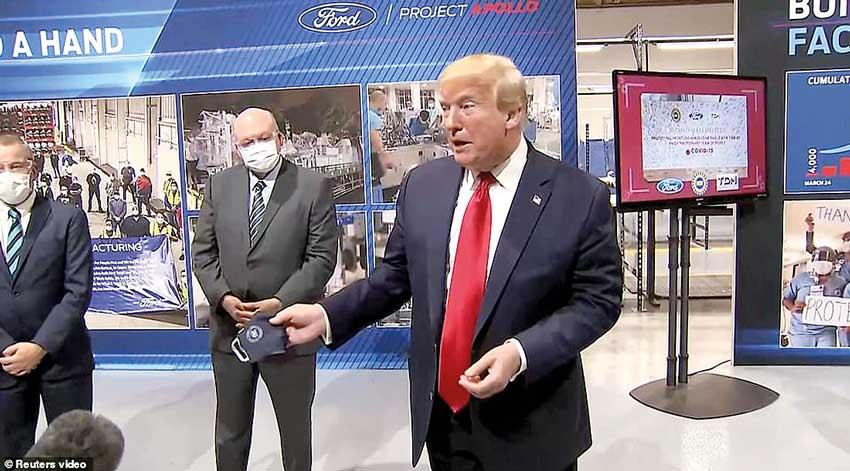 Michigan, (Daily Mail), 22 May 2020 - Donald Trump laced into Michigan's attorney general late Thursday, slamming her as 'wacky' after she called him a 'petulant child' for refusing to wear a mask in public as he toured a Ford plant near Detroit - but did wear it behind the scenes.

Dana Nessel warned she could charge Ford over a breach of mask laws and said the president was risking shutting down the plant by infecting workers when he toured it and spoke without a mask.

She told CNN: 'He is a petulant child who refuses to follow the rules. This is not a joke.'
That prompted two angry tweeted retorts from the president, who said he would not be photographed in one because 'I didn't want to give the press the pleasure of seeing it.' The pictures of him wearing one appeared to have been leaked by workers at the plant.

The Wacky Do Nothing Attorney General of Michigan, Dana Nessel, is viciously threatening Ford Motor Company for the fact that I inspected a Ventilator plant without a mask,' he tweeted. 'Not their fault, & I did put on a mask. No wonder many auto companies left Michigan, until I came along!' Shortly afterwards he tweeted again: 'Do nothing A.G. of the Great State of Michigan, Dana Nessel, should not be taking her anger and stupidity out on Ford Motor - they might get upset with you and leave the state, like so many other companies have - until I came along and brought business back to Michigan. JOBS!' The row - and the leaked picture of Trump in a mask - overshadowed what was supposed to be a celebration of the Ford plant producing ventilators.

Instead Trump spent the entire public part of the tour defying its boss Bill Ford's request to cover up, then was photographed behind the scenes .

In public, Trump held the navy blue face covering with the seal of the president on it, but added he didn't want to give the media the 'pleasure' of seeing him wear one.

'I wore one in this back area. I didn't want to give the press the pleasure of seeing it,' he said during his tour of the Rawsonville Components Plant. 'I had the goggles and the mask.'

Trump is reported to believe that wearing a mask sends the wrong message as he pushes to get the country focused on reopening from the coronavirus pandemic, which has infected more than 1.58 million Americans and killed almost 100,000.

He was finally photographed wearing a face covering backstage as Ford, the executive chairman of the firm founded by his great-grandfather Henry Ford, showed him three Ford GTs during a private tour.
But when he was in public, he brandished the mask with the presidential seal without putting it on, and posed with a face visor which he did not wear either.