---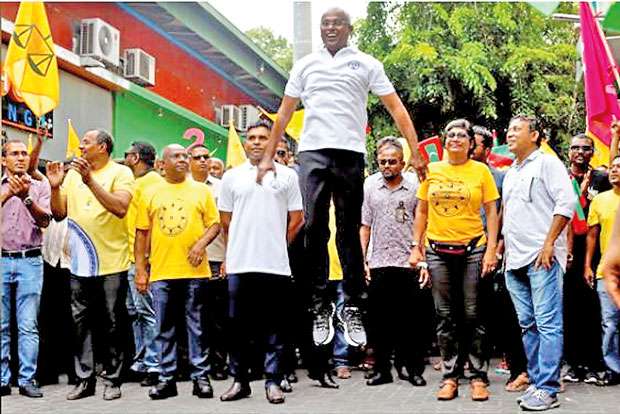 Maldives opposition leader Ibrahim Mohamed Solih, who fought a bitter election campaign against President Abdulla Yameen, said he won Sunday's presidential vote with a 16 percent margin after 92 percent of the votes had been counted.

Provisional results counted in 446 of 472 ballot boxes by 1943 GMT showed the opposition leading by a margin of 16.6 percent, news website Mihaaru reported.

"This is a moment of happiness, a moment of hope. This is a journey that has ended at the ballot box because the people willed it," Solih, popularly known as Ibu, told reporters in Male.

"The message is loud and clear. The people of Maldives want change, peace and justice. I would like to call on President Yameen to accept the will of the people and begin a smooth transition of power as per the constitution," he said. Hundreds of people gathered outside the main opposition campaign centre in Male in a jubilant mood, chanting "Ibu, Ibu, Ibu" and calling on Yameen to concede defeat.

Transparency Maldives, one of the few election monitors on the ground, said the initial vote had gone smoothly and that Solih was on course for an emphatic victory.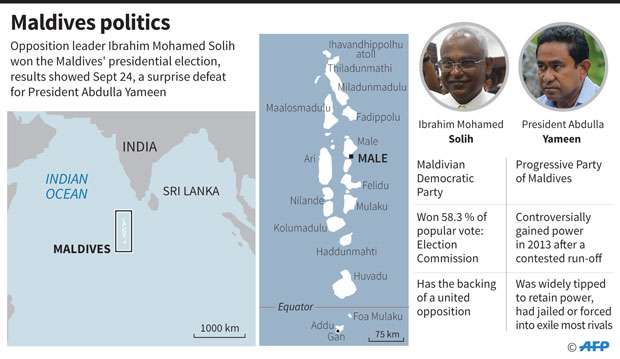 Yameen had been expected to cement his grip on power amid criticism over the fairness of the vote on the islands best known as a luxury holiday destination.

The Indian Ocean nation's Election Commission extended voting by three hours because of long queues at polling stations.

Officials from Yameen's PPM party told Reuters "if we win or lose, PPM has the courage to accept the decision of Maldivian people," the ruling party's parliamentary leader MP Ahmed Nihan wrote on Twitter. The Election Commission said it would release official results by Sept. 30, as stipulated in the constitution. The United States and India both congratulated the Maldives on its peaceful elections and noted that it appeared likely Solih's opposition coalition

had won. Rohana Hettiarachchi, a member of the Asian Network for Free Elections, which was named as an election monitor, said his organisation could not take part.
MALE REUTERS,
Sept 24 2018