---
Democrats in the United States Congress announced a wide-ranging police reform bill on Monday, as mourners gathered for a public viewing of George Floyd's body in his home town of Houston, Texas.

Floyd, a black man, died two weeks ago while being held by a white police officer in Minnesota, sparking protests against police brutality and systemic racism across the country and around the world.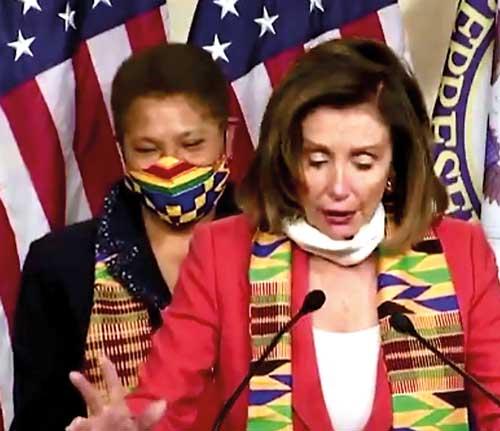 The legislation unveiled in both the House and Senate aims to reduce police violence, expand training and improve oversight and accountability at the national level.

The Justice in Policing Act would ban chokeholds, end certain so-called no-knock warrants, expand the use of body cameras, and establish a database for tracking officers' misconduct.
There would also be changes to qualified immunity, making it easier to sue officers for abuse.

Prior to a press conference, the group of lawmakers kneeled down in the entrance hall of the US Capitol and held a moment of silence that lasted for 8 minutes and 46 seconds, the length of time an officer kept his knee on Floyd's neck.

President Donald Trump, seeking to portray himself as a law-and-order leader, bashed the demand as he met with law enforcement officials at the White House.
"There won't be defunding, there won't be dismantling of our police, and there's not going to be any disbanding of our police," Trump said.
Washington (dpa) 9 June 2020 -
---

Seven people shot in 10 minutes in Floyd protests
US (Daily Mail), 9 June 2020 - Seven people were injured in shootings in Brooklyn, New York, in a space of just 10 minutes on Monday night.

Two men, 27 and 34, were each shot in the leg in the first incident at 10.40pm in Bedford-Stuyvesant, according to the New York Post.

Just five minutes later a shooting in Flatbush left a 35-year-old man injured.

Then three men, aged 17, 35, and 50, and a woman were gunned down at around 10.50pm in Brownsville.

The woman, 23, is in critical condition. All of the other victims are expected to survive.

The shootings happened two nights after New York City lifted its 8pm curfew after looting and riots following the death of George Floyd.

Peaceful protests policed by the NYPD continued across the city on Monday night.