---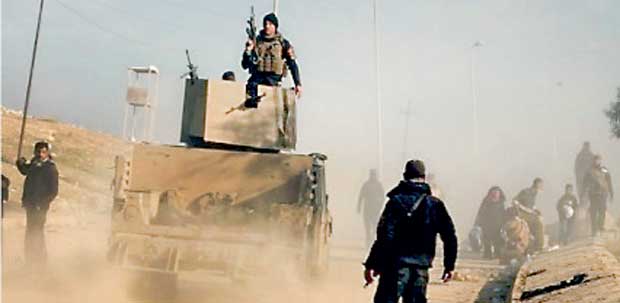 Iraqi special forces and police fought Islamic State militants to edge closer to the al-Nuri mosque in western Mosul on Wednesday, tightening their control around the landmark site in the battle to recapture Iraq's second city, military commanders said.

The close-quarters fighting is focused on the Old City surrounding the mosque where Islamic State leader Abu Bakr al-Baghdadi proclaimed a caliphate nearly three years ago across territory controlled by the group in both Iraq and Syria.

Thousands of residents have fled from IS-held areas inside Mosul, the militants' biggest remaining stronghold in Iraq. But tens of thousands more are still trapped inside homes, caught in the fighting, shelling and air strikes as Iraqi forces backed by a U.S.-led coalition advance in the west.

Helicopters circling west Mosul strafed Islamic State positions beyond the city train station, the site of heavy back-and-forth fighting in recent days, and thick black smoke rose into the sky, Reuters reporters on the ground said.

Heavy sustained gunfire could be heard from the Old City area, where militants are hiding among residents and using the alleyways, traditional family homes and snaking narrow roads to their advantage, fleeing residents say. "Federal police forces have imposed full control over the Qadheeb al-Ban area and the al-Malab sports stadium in the western wing of Old Mosul and are besieging militants around the al-Nuri mosque," federal police chief Lieutenant General Raed Shaker Jawdat said in a statement.
MOSUL REUTERS
March 29