---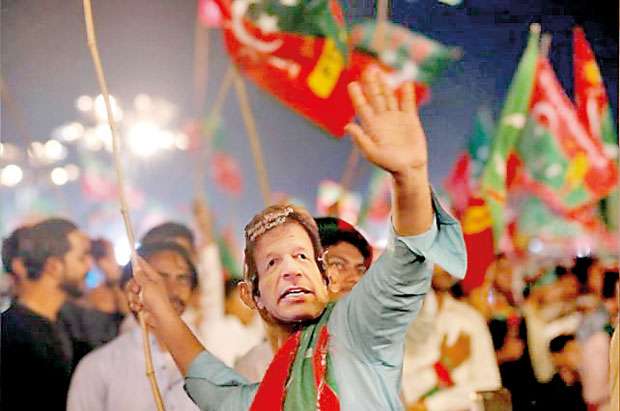 Pakistanis voted on Wednesday in a knife-edge general election pitting cricket hero Imran Khan against the party of jailed ex-Prime Minister Nawaz Sharif, with the prospect of neither winning a clear majority.

A decade after Pakistan was last ruled by a military government, the election has been plagued by allegations the powerful armed forces have been trying to tilt the race in Khan's favour after falling out with the outgoing ruling party of Sharif, who was jailed on corruption charges this month.

The most recent opinion polls say the two parties are running neck-and-neck. Khan has emerged as a slight favourite in national polls, but the divisive race is likely to come down to Punjab, the country's most populous province, where Sharif's party has clung to its lead in recent surveys.

"Imran Khan is the only hope to change destiny of our country. We are here to support him in his fight against corruption," said Tufail Aziz, 31, after casting his ballot in the north-western city of Peshawar.
Whichever party wins, it will face a mounting and urgent in-tray, from the economic crisis to worsening relations with on-off ally the United States to deepening cross-country water shortages.
Pakistan (Reuters),
JULY 25 2018
---
31 killed in suicide blast on Pakistan polling station

Quetta AFP 25 July 2018- At least 31 people were killed and dozens injured in a suicide bomb attack on a polling station in restive southwest Pakistan as millions voted in a nationwide election Wednesday.

Shoes and charred vehicles littered the blood-smeared road near the polling station in the Balochistan provincial capital Quetta, as the dead and injured were shuttled to hospital accompanied by distraught loved ones.

Local officials said the bomber was trying to enter the polling station when police intervened and the attacker detonated his explosives.

"Suddenly there was a huge blast. I was flung on the ground and I thought that I was about to die," madrassa teacher Hafiz Kareem told AFP from his hospital bed.

Dr Wasim Baig, spokesman for the Sandeman Provincial Hospital in Quetta, said the death toll had risen to 31 with 70 injured, including eight in critical condition.