---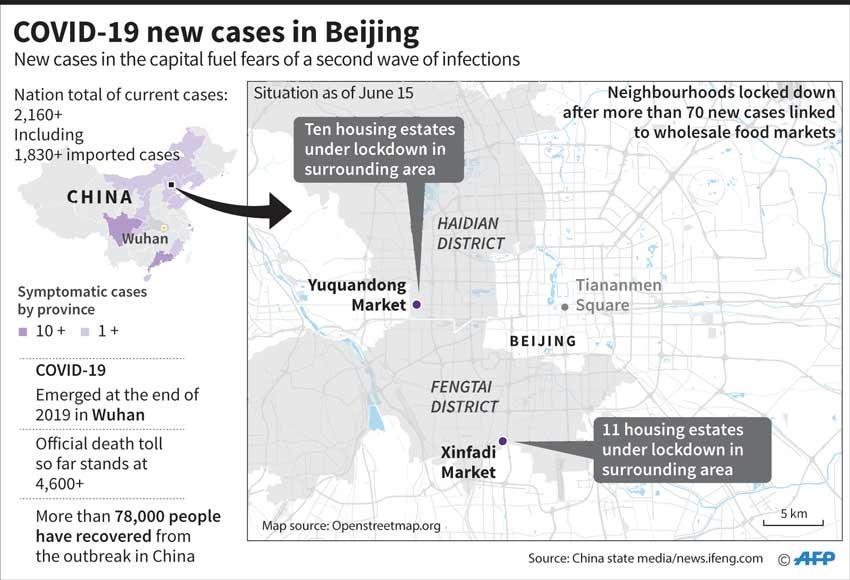 China has dismissed several local officials in the Beijing suburb where a new coronavirus outbreak has erupted at a major wholesale market, sparking fears of a second wave in the national capital.

The deputy mayor of south-western Fengtai district where the Xinfadi wholesale market is located, Zhou Yuqing, was removed from office for "dereliction of duty" and is currently being investigated, news site HK01 reported, citing local authorities.

The secretary of the Communist Party committee for Fengtai's Huaxiang township, Wang Hua, and Xinfadi general manager Zhang Yuelin were also sacked over the outbreak.

Fengtai has been put in "wartime mode" according to district leader Chu Junwei, with eleven neighbourhoods under lockdown and roadblocks set up. Over 40,000 samples from residents in these communities have been collected by authorities, as well as close to 30,000 samples from who visited Xinfadi in the previous 14 days. So far, around 19,000 of these samples have undergone nucleic acid testing.

China reported 49 new cases of the coronavirus nationwide on Monday, according to health authorities. Thirty six were diagnosed in Beijing, which has reported a spike of 79 new Covid-19 cases over the past three days.

Xinfadi is the largest wholesale agricultural market in China by transaction value, and provides 90 per cent of the capital's fresh fruit and vegetables.
Beijing (dpa) 15
June 2020

---
Coronavirus toll at 1100 GMT
The novel coronavirus has killed at least 433,493 people since the outbreak emerged in China last December, according to a tally from official sources compiled by AFP at 1100 GMT on Monday.

At least 7,928,590 cases of coronavirus have been registered in 196 countries and territories. Of these, at least 3,574,300 are considered recovered.

The tallies, using data collected by AFP from national authorities and information from the World Health Organisation (WHO), probably reflect only a fraction of the actual number of infections.

Many countries are testing only symptomatic or the most serious cases.

The United States is the worst-hit country with 115,732 deaths from 2,094,069 cases. At least 561,816 people have been declared recovered.
PARIS AFP June15, 2020