---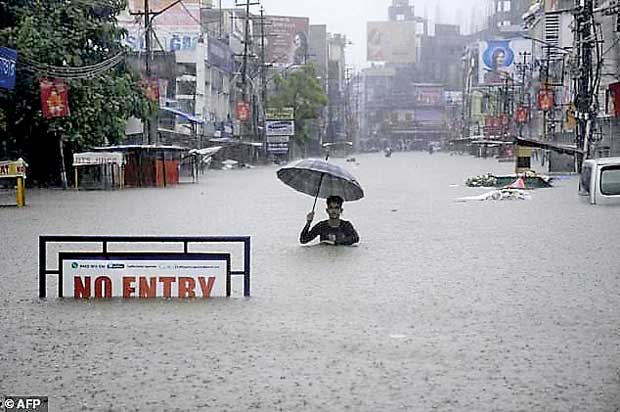 At least 175 people have died and thousands have fled their homes as monsoon floods swept across Nepal, India and Bangladesh, officials said Monday, warning the toll could rise as the extent of the damage becomes clear.

Three days of relentless downpours sparked flash floods and landslides that have killed at least 80 people in Nepal, 73 across northern and eastern India and 22 in Bangladesh.

Around 200,000 people are living in emergency camps in Assam in northeast India, which suffers frequent flooding during the annual monsoon rains.

Another 15,000 have had to leave their homes in the eastern state of Bihar, which borders Nepal and where one official said seven rivers were at danger levels.

All trains to the northeast have been suspended until Wednesday, with sections of the track completely submerged in water, Indian railway spokesman Anil Saxena told AFP.

In Nepal, ariel photos taken by an AFP photographer showed huge swathes of land in the southeast still underwater Monday afternoon.

Police said over 48,000 homes have been totally submerged by the floods across Nepal's southern plains.

As emergency workers struggled to reach far-flung areas, the country's home ministry said another 36 people were missing, presumed dead, revising down an earlier count after more bodies were found.
The Nepal Red Cross warned that shortages of safe drinking water and food could create a humanitarian crisis in the impoverished Himalayan country.
-AFP