---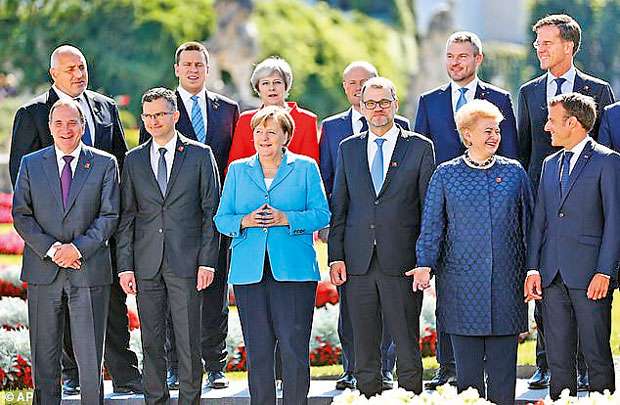 Brussels, (Daily Mail), 20 September 2018 - EU leaders today warned a Brexit deal is still 'far away' despite Theresa May's plea for them to end the deadlock in negotiations.

The Prime Minister is still struggling for a breakthrough after a ten minute pitch of her Chequers blueprint fell on deaf ears at a summit dinner in Salzburg last night.

Appealing for her counterparts to compromise, Mrs May flatly dismissed the EU's latest proposals for resolving the Northern Ireland border issue, saying they would break up the UK.

She also ruled out any delay to Britain's departure from the EU in March – insisting there were no circumstances in which she would consider a second referendum.

But her fellow leaders - who received the speech in stony silence as they have vowed not to discuss Brexit directly with the UK - were unimpressed.

In a clear swipe at Mrs May's proposals to align with EU rules on goods but not services, French President Emmanuel Macron today warned he would not accept so-called 'cherry-picking' that undermined the EU single market.

Other leaders said the talks were at a 'standstill', and called for the UK to hold another public vote to reverse Brexit altogether. Meanwhile, Mrs May is facing a growing revolt at home with Tory plotters branding her 'deluded' and calling Chequers 'as dead as a dodo'.