---
MEXICO CITY REUTERS Feb 23-A bid by U.S. President Donald Trump to deport non-Mexican illegal migrants to Mexico that has enraged Mexicans will top the agenda when officials from both countries meet on Thursday amid a deepening rift between the two nations.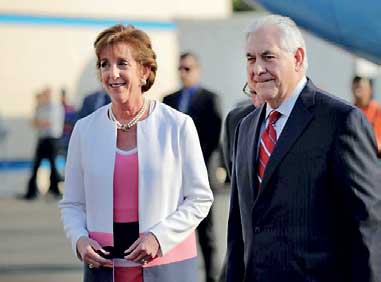 The U.S. government on Tuesday said it would seek to deport many illegal immigrants to Mexico if they entered the United States from there, regardless of their nationality, prompting a fiery response from Mexican officials.

Calling the measure "unilateral" and "unprecedented," Mexican Foreign Minister Luis Videgaray said new immigration guidelines would top the agenda of meetings in Mexico City with U.S. Secretary of State Rex Tillerson and Homeland Security Secretary John Kelly.

The stakes are high for the United States, since Mexico has warned that a breakdown in relations could affect its extensive cooperation on the fight against narcotics and on stemming the flow of Central American migrants that reach the U.S. border. Talking points from a senior official show Mexicans plan to seek more information on Trump's executive orders at the summit. Officials plan to say, "We are worried about the consequences that these can have for Mexican nationals," in the United States, the notes show.

As part of its response, Videgaray said Mexico's foreign ministry would get involved in legal cases in the United States where it considered the rights of Mexicans had been violated.