---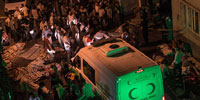 ANKARA, AFP, Aug 21, 2016 - The death toll from the bomb attack on a wedding in Gaziantep in southeastern Turkey has risen to 50, the regional governor's office said on Sunday.
"The number of those killed in the terrorist bombings is, as of today, 50," the office of governor Ali Yerlikaya said in a statement, raising a previous toll of 30.
President Recep Tayyip Erdogan has said the attack was likely carried out by Islamic State (IS) jihadists.