---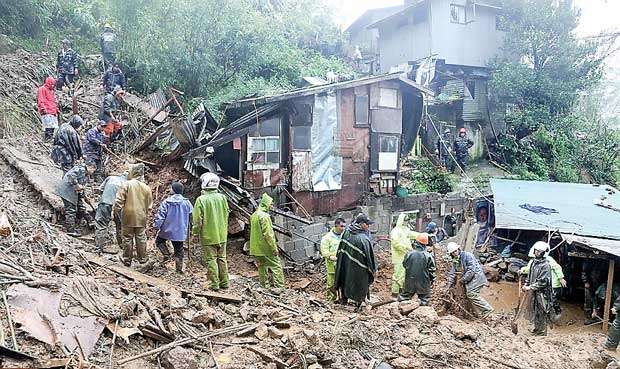 Mangkhut has made landfall in south China's Guangdong province, bringing torrential rains and winds of 100mph to follow the devastation it has caused in the Philippines and Hong Kong.

The world's biggest storm this year reached China after rocking Hong Kong earlier on Sunday, injuring more than 100 people and leaving skyscrapers swaying in the fierce winds.

State-run China Central Television (CCTV) reported the typhoon had killed two people in Guangdong.

Some roads were waist-deep in water with parts of the city cut off by floods and fallen trees, while in the fishing village of Tai O, where many residents live in stilt houses built over the sea, some desperately tried to bail out their inundated homes.

Preparations were in high gear on China's southern coast, including in Yangjiang, which is not often hit by major typhoons and where the city's 2.4 million people were bracing for a direct hit.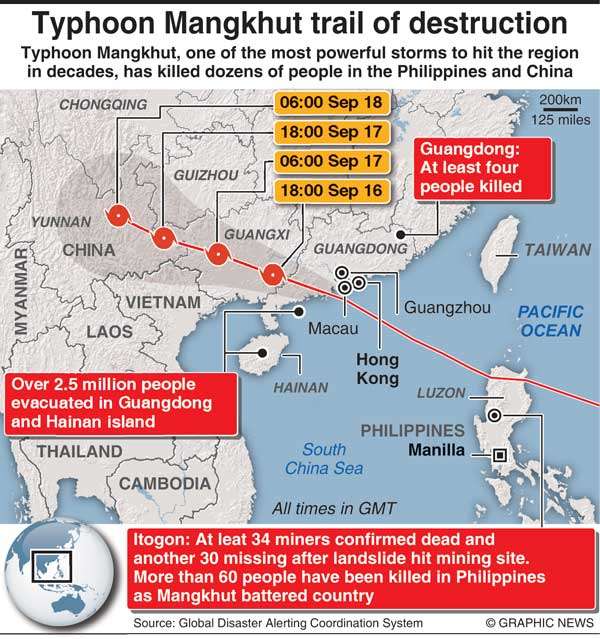 Two nuclear power plants in the path of the storm were 'in combat readiness' as the typhoon approached, the South China Morning Post reported. The nuclear plants, taking particular care since an earthquake and tsunami prompted the Fukushima nuclear disaster in 2011, have emergency personnel on standby.

As the storm moved south past Macau, its streets became submerged under water gushing from the harbour.

Farms across northern Luzon, which produces much of the nation's rice and corn, were sitting under muddy floodwater, their crops ruined just a month before harvest.

Nearly five million people live in the storm's path.

'We're already poor and then this happened to us. We have lost hope,' 40-year-old Mary Anne Baril, whose corn and rice crops were spoilt, told AFP.
'We have no other means to survive,' she said.
Daily Mail, 16
September 2018