---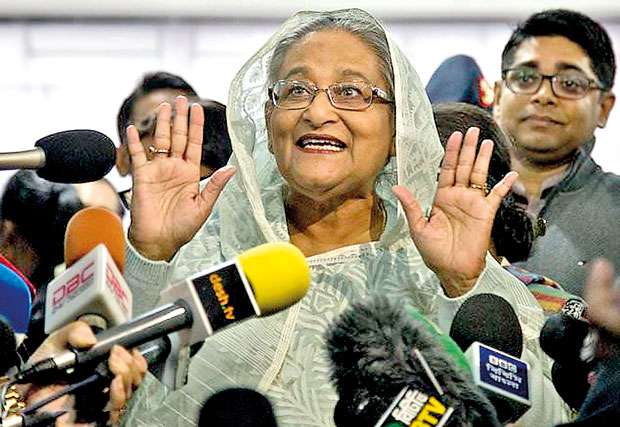 Bangladesh's Prime Minister Sheikh Hasina is set to form a government for the third straight term as her Awami League-led ruling coalition won an overwhelming majority in Sunday's parliamentary election, which was marred by violence and allegations of rigging.

According to the provisional result announced by the election office Monday, Hasina's Awami League party took 259 out of 298 parliamentary seats.

Her coalition partner Jatiyo Party of former military dictator Hussain Muhammad Ershad secured 20 seats while the Bangladesh Nationalist Party (BNP) of jailed former prime minister Khaleda Zia won five seats, election official Helal Uddin Ahmed told reporters in the
capital Dhaka.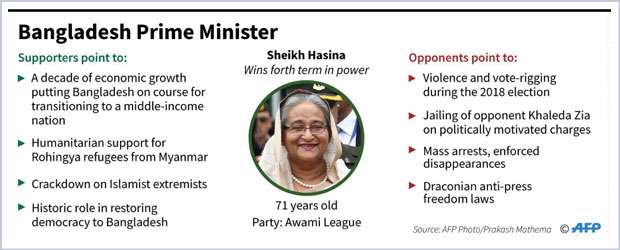 Left-wing Bangladesh Workers Party of Rashed Khan Menon took three seats, while the Gono Forum of former foreign minister Kamal Hossain, who leads the Jatiya Oikya Front opposition alliance, secured two seats.

Jatiya Samajtantrik Dal of Hasanul Haq Inu took two, Bikalpo Dhara Bangladesh of former president AQM Badruddoza Chowdhury two, and one seat each was secured by Tariqat Federation and Jatiya Party (Manju).

Independent candidates won in three constituencies. At least 16 people were killed in violence during the polling in 299 out of 300 parliamentary constituencies across Bangladesh on Sunday.

The election will be rescheduled in one constituency as voting was suspended in some voting centres due to violence, according to officials.

The opposition alliance termed Sunday's election farcical and demanded that the election commission announce a fresh election under a neutral non-party administration.
Dhaka (dpa)