---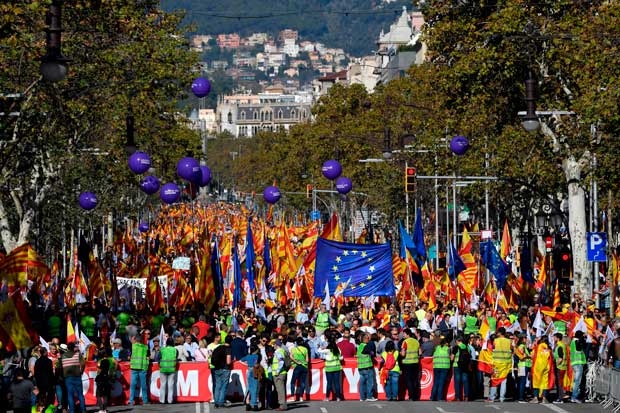 Spain is on a knife edge as it grapples with the worst constitutional crisis in its contemporary history, triggered by an unlawful Catalan independence referendum on October 1 that was shunned by many and marred by police violence.

Throwing down the gauntlet in the escalating standoff, Catalan lawmakers on Friday passed a motion, by 70 votes out of 135 in the regional parliament, to declare a Catalan republic.

Opposition MPs refused to even vote on the issue and walked out in disgust.
Catalonia's secessionist leader Carles Puigdemont stood defiant Saturday against Madrid's moves to depose him, urging "democratic opposition" to direct rule forced on the region to stop it splitting from Spain. In a televised statement, Puigdemont accused the central government of trampling on the will of independence-seeking Catalans who rejoiced at Friday's vote by regional lawmakers to declare a sovereign republic.

Madrid's decision to seize Catalan powers in response -- the first curtailment of regional autonomy since Francisco Franco's brutal 1939-75 dictatorship -- constituted an "aggression", he added.

The separatist leader said "democratic opposition" was the only way forward, without specifying what form this could take. Independence activists have called for "peaceful resistance" in the form of protests and strikes.
BARCELONA AFP
Oct29, 2017-