---
Isaac Stanley Becker · Jun 29, 2017 - BERLIN - Speaking in Germany's Parliament on Thursday, Chancellor Angela Merkel predicted a difficult meeting of the world's major economies next week in Hamburg over the climate agreement spurned by the Trump administration.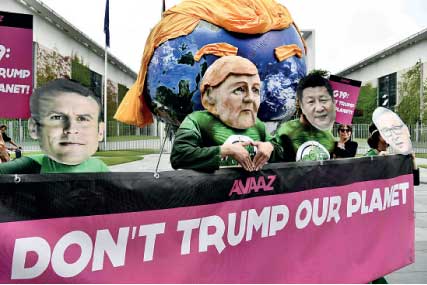 Despite the withdrawal of the United States, the world's second-largest polluter, from the Paris climate agreement, the EU remains committed to it and it was not up for renegotiation, she said.

"Since the U.S. announced that it would exit the Paris agreement, we cannot expect any easy talks in Hamburg," Merkel said, referring to the Group of 20 summit.

She said talks in Hamburg must "serve the substance and aims of the Paris accord" and made clear that she would not countenance calls to revise the agreement to forge a global consensus around limiting greenhouse gases.

Four weeks after President Trump announced he would take the United States out of the accord in order to negotiate a better deal, Merkel said the pact is "irreversible."