---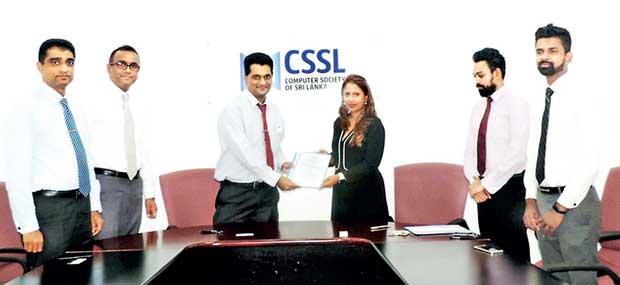 From left: ESOFT Group of Companies Group Managing Director Dr. Dayan Rajapakse, CSSL Vice President Prabath S. Wickramarathne, CSSL President Yasas V. Abeywickrama, zMessenger Co-Founder/Chief Executive Officer Jayomi Lokuliyana and zMessenger staff members
Multi award winning digital marketing agency in Sri Lanka, zMessenger, has entered into a partnership with the Computer Society of Sri Lanka (CSSL) as the digital media and broadcasting partner for the National IT Conference (NITC) 2017.
The agreement for this partnership was signed by top officials of both organisations including CSSL President Mr. Yasas V. Abeywickrama and CSSL Vice President Prabath S. Wickramarathne recently.
zMessenger Co-Founder/Chief Executive Officer Jayomi Lokuliyana stated "South East Asian Regional Computer Confederation (SEARCC) summit is a wonderful event in an era where every business is becoming an IT business. We at zMessenger are excited to be part of this great event. It provides an excellent opportunity for leaders in IT to come together, share ideas and learn from one another"
Established in 1976 CSSL is a professional association dedicated to promoting ICT amongst organizations and individuals in the field of ICT. The association unites ICT professionals from across the country and advocates a common vision of over fifty thousand entities extending from academics, ICT specialists to other professionals in various industries and affiliates of the business community. For over 40 years CSSL has been the leading professional body in ICT development in Sri Lanka.
The annual NITC is organized by the CSSL and is the front runner in ICT conferences held in Sri Lanka. Since 1982, the NITC has involved ICT experts, technology specialists, and business owners in both private and public sectors and brought key decision makers to unite, locally and internationally. The NITC is the only national event that unites a large number of ICT professionals in Sri Lanka and marks its 35th anniversary this year, recording it as Sri Lanka's biggest international ICT event in history. The event will run in partnership with SEARCC and is anticipated to be this year's most influential ICT event worldwide.
Since its inception zMessenger has assembled a reputation for its ground-breaking approach and its commitment to renovating the digital marketing landscape of Sri Lanka, authorising local establishments to keep up with the swift pace of evolution witnessed around the globe. It influences well-organized and innovative digital expertise to create pioneering IT-enabled business solutions and mobile strategies across an immense range of industries in.