---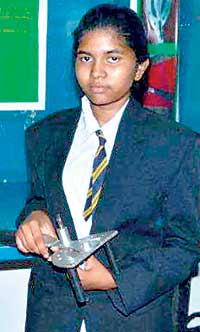 K. A. S. Subodha Sewwandi, 17, of Bomiriya Central College Kaduwela has won a prestigious award at this year's Intel International Science and Engineering Fair(Intel ISEF), a program of Society for Science and the Public.
Subodha received a Fourth Place Award of $500 in the Engineering Mechanics: Mechanical Engineering category for the project 'Supporting Rod to Climb Stair Case for Disabled Personnel'. She was adjudged as one of the individual winners after showcasing her project in this year's local competition 'Sri Lanka Science and Engineering Fair.'
"Intel believes young people are key to future innovation and that in order to confront the global challenges of tomorrow, we need students from all backgrounds to get involved in science, technology, engineering and math," said Indika de Zoysa, Country Business Manager, Intel EM Limited, Sri Lanka Liaison Office.
This year's Intel International Science and Engineering Fair featured approximately 1,700 young scientists selected from 422 affiliate fairs in more than 75 countries, regions and territories. In addition to the top winners, approximately 600 finalists received awards and prizes for their innovative research, including 20 "Best of Category" winners, who each received a US$5,000 prize. The Intel Foundation also awarded a US$1,000 grant to each winner's school and to the affiliated fair they represent.