---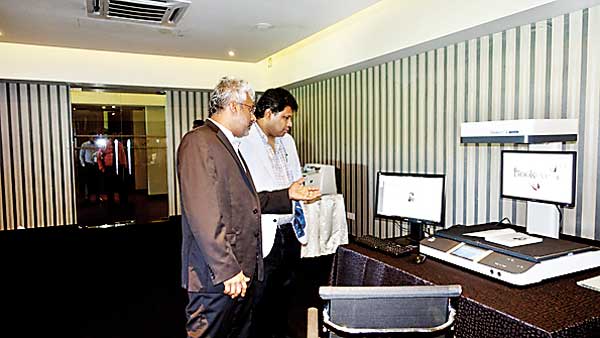 Sanje (Pvt) Ltd is one of the largest and pioneering enterprise document management solutions and service provider in South East Asia head quartered in Colombo, with several service bureaus that provide solutions and services to the customers in various countries covering almost all the market sections including government, financial, health, consumer, apparel, private, NGO & telecommunications has introduced the Robotic High Speed Book Scanner for the first time in Sri Lanka.

The event was celebrated at Water's Edge, Battaramulla last week with a very big gathering including of academic and librarians of all state universities in Sri Lanka, high official of the Government and Private sector in the IT field.

Chief Operating Officer of Sanje (Pvt) Ltd & Techone Global Wasantha Weerakoon has explained the development and progress of Sanje (Pvt) Ltd during the last 15 years and it present productions and services rendered to the clients across Sri Lanka and globally In Philippines, Nepal, Brunei, UK, Bangladesh, etc. Further he said Sanje has been working with companies of all sizes in managing their documentation needs of varying volumes.

Enterprise document management solution and Services Company Sanje (Pvt) Ltd introduced Qidenus Robotic Book Scanner 3.0 from high speed mass digitization of huge book inventories in Colombo recently.

The Robotic Book Scanner 3.0 manufactured by Qidenues Technologies Gmbh, Austria is high quality book digitalization system which scans large volumes of book in a short period.

This machine is based on a worldwide patented turning technical, a single page control and V- shape book cradle capturing the pages with full format digital cameras.

The significant features of this Book Scanner is three in one machine with its integrated manual modes, processes any document in matching any dimension. It scanned two pages at once and turns pages automatically after scanning.

It can scan books in color, grey scale and Black and white including covers and images at a speed of 2500 pages per hour in automatic mode, 1000 pages per hour in semi automatic mode.

CEO & MD Information and Communication Technology Agency of Sri Lanka (ICTA) Muhunthan Canergey said, online book collections are becoming larger and more important each day as more libraries are digitized and people today read books on their Tablets. Scanning hundred of thousand of books quickly without damaging it remains a challenge which the Robotic Book Scanner 3.0 can take up.