---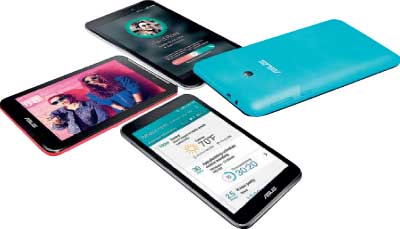 Asus, a global trendsetter in the modern information age, officially launched their iconic Fonepad series of phablets and the Asus Transformer Pad in Sri Lanka.
Now consumers can enjoy the versatility of mobile devices with the new Fonepad series and the Transformer Pad which are available through John Keells Office Automation (JKOA) at competitive prices.
Asus Fonepad 7 comes in three different variants; FE170CG, FE375CG and ME372CL. They feature powerful 2X2: Intel Atom Multi-Core Z2520 and Atom Z3560 Quad-Core processors which provide powerful efficient performance to give users a 7-inch tablet coupled with 3G as well as 4G LTE phone functionality.
With embedded Android operating systems (Android 4.3 and 4.4); users can experience the versatile features of a smartphone. Fonepad will also feature a vibrant HD display with IPS technology for wide viewing angles and outstanding clarity as well as dual SIM.
"I am very pleased to announce the availability of Asus Fone padphablets and the Transformer Pad in Sri Lanka. In the present context, mobility is indeed a crucial part of our lifestyles. With the high Internet penetration in the country; social media, online entertainment and other online activities have become an important part of our consumers' lives. As a moving force in the computer device industry, we have brought down these powerful models to Sri Lanka to help customers fulfill their day-to-day needs," said Rajeev Chaudhari, Director Operations (India) and Country Product Manager (Sri Lanka) for Asus.
"Extending our long history of partnership, we are very excited to be partnering with Asus again. Intel's new Atom processor delivers the power, performance and flexibility required to accommodate a range of devices and market needs. We think the Asus Fonepad series as well as the Transformer Pad are very exciting devices for an emerging country like Sri Lanka. These devices bring the true form of mobility into the local market," said Indika De Zoysa, Country Business Manager of Intel EM Ltd - Sri Lanka Liaison Office.
The Asus Transformer Pad (TF303CL) features a new mobile keyboard dock with a hidden hinge design, and is powered by the latest 64-bit Intel Atom Z3745 Quad-Core processor (up to 1.86GHz). The 10-inch tablet is slightly thicker at 19.8mm when docked. The Transformer Pad TF303CL has a Full HD 1920 x 1200 IPS display with 178-degree wide viewing angles with Asus Splendid color enhancement technology for truly vivid, bright visuals. It also has dual-band 802.11a/b/g/n Wi-Fi giving fast, reliable connections for a smoother online experience and LTE Cat 4 connectivity provides download speeds in excess of 150Mbit/s, making the Transformer Pad TF303CL ideal for downloading large files, high-quality video streaming, or online gaming.
"I believe the Asus Fonepad series and the powerful Transformer Pad TF303CL bring a different flavour to our versatile ASUS product range. End-users now get the chance to enjoy the sleekness of a smartphone cum tablet. AT JKOA, we strive to provide cutting-edge computing devices to Sri Lankan consumers. Asus, being a leader in the market, helps us to achieve that persistent goal," said JanodaThoradeniya, Chief Executive Officer – John Keells Office Automation and Vice President John Keells Group.