---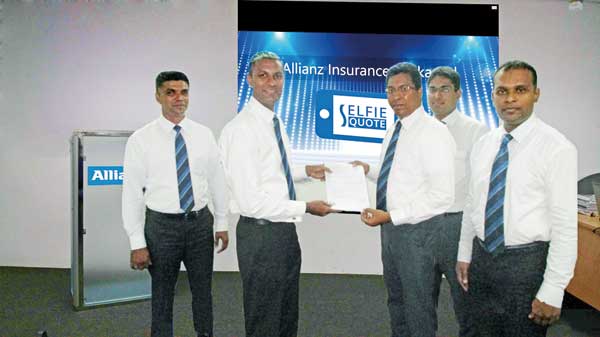 Allianz Lanka has introduced yet another innovative business solution to customers in Sri Lanka. Now insurance intermediaries such as insurance brokers, leasing companies and financial services institutions can generate speedy, automated 'selfie' motor quotations with system-generated business proposals within their own premises, whether or not they have Internet connectivity.
This 'selfie,' once generated, automatically alerts the relevant Allianz insurance sales representative, who is then well prepared to meet the customer's requirements the moment he/she walks in.
"The Allianz Non-Life company has demonstrated a strong performance over the years by achieving outstanding growth," said Allianz Lanka CEO Surekha Alles. "In recent years, we have invested substantially in expanding our retail business. In step with this, we prioritised speed and quality of service through equipping our sales force and business partners with global technological advances in line with the standards of our parent company Allianz SE. All this is designed to give our customers an experience that surpasses their expectations."
"This, our newest tool, breaks all boundaries. It is a 'first' for Sri Lanka and also a global first. As far as we are aware, similar tools do not exist in insurance markets anywhere in the world. All systems presently operate through the Internet."
Manager Motor Allianz Lanka Asanka Perera outlined the new system. "An intermediate software connects the company's core quotation module with the end user. Not even individual logins are required, only an e-mail account."
Allianz Lanka has also developed 'e-covers' for insurance intermediaries, which replaces the present system of manual covers and allows them to immediately confirm their cover through the web, 24/7. This business solution further strengthened the company's sales and distribution network.
Last year, Allianz Lanka also successfully deployed a web-based e-motor quotation module which enables its sales force generate motor quotations from their mobile devices from anywhere in the world.
Allianz motor covers include free flood and natural disasters, free hire purchase and leasing and free taxi fee reimbursements. The company's innovative approach to business is geared to provide customers with a range of exclusive benefits.