---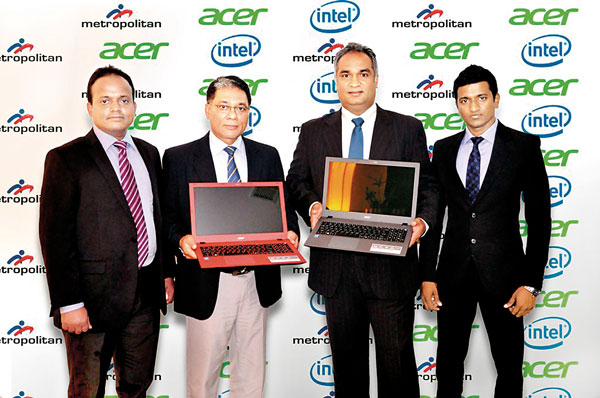 L to R:Chaminda Rajapaksha, Asst. General Manager, Metropolitan Computers (Pvt) Ltd, Ivor Maharoof, Managing Director, Metropolitan Computers (Pvt) Ltd, Indika De Zoysa, Country Business Manager, Intel EM Ltd - Sri Lanka Liaison Office and Hasalaka De Silva, Acer Product Marketing Manager, Metropolitan Computers (Pvt) Ltd



Metropolitan Computers, the authorised distributors for Acer computers in Sri Lanka, announced the launch of the new Acer Aspire E5 574 - the first laptop series in the local market to run on the newly launched 6th Generation Intel Core processors.


The 6th Gen Intel Core i5 processor on the Acer Aspire E5 series has a better clock speed with Intel Turbo Boost. Together with improved Intel HD Graphics, this helps deliver amazing and vibrant multimedia experiences.
The significant strides made in power consumption at the processor level and across the system ensure longer battery life. With security features the device has multiple defenses protecting user data.
Acer E5 574 6th Gen Intel Core i5 laptop comes with superior specifications such as 8GB RAM, 1TB Hard disk, NVidia GT940 2GB VGA latest Graphic card and two year warranty. All this translates into an incredibly responsive performance backed with convenient connectivity and multimedia capabilities which together make daily computing a pleasure on the Acer Aspire E5 574 laptop series.