---
The inauguration ceremony of the university students' laptop loan scheme, which is a part of the government's budget proposals, was held at BMICH on 26th May, under the patronage of Prime Minister, Ranil Wickramasinghe, Lakshman Kiriella, Minister of Higher Education and Highways and Mohanlal Grero, State Minister of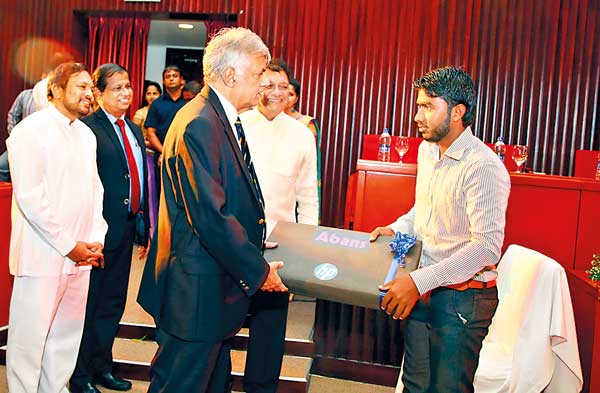 Higher Education.

The magnanimous gesture by the government, with the support of the Ministry of Higher Education and Highways, to provide loan facilities to university students to purchase computers, is aimed at encouraging the students in the use of digital devices such as computers to further their knowledge. This is a special offer that provides an interest free bank loan of Rs.75,000 to all government university students to purchase a computer of their choice.

Abans, the market leader for IT in Sri Lanka, has offered the students HP and Lenovo Notebooks at a special Starting price of Rs.65,900 (well within the loan facility) with free All-in-One printers or Colour Printer + RAM upgradable to 8GB. Abans is happy to announce that, at the inauguration ceremony, where the first batch of 80 students received their laptops, 41 of them selected HP and Lenovo Notebooks from Abans.
Today's young generation are not easily duped. They know very well how to select the best IT equipment for their needs at the best price.

Both Hewlett Packard (HP) and Lenovo are world's No. 1 & 2 leading renowned global brands. Moreover, students are aware that when they purchase their computer from Abans, they are assured of genuine quality and genuine service through over 450 showrooms and service centres island wide, plus they get an All-in-One Printer free or printer and RAM upgradable to 8GB, when they confirm their order.

Computer knowledge stretches far beyond the student stage of one's life. Basic IT knowledge and application is now a prerequisite for almost any job and a must to build a successful career. Abans believe that equipping talented students through their secondary and tertiary educational years will prepare them for what awaits them when they are ready to launch their careers.

Very few students in Sri Lanka have the privilege of on-line access to various educational information which seriously affects their ability to improve their knowledge of information and technology skills. Abans having realized the implications of this digital divide launched a CSR initiative "From Your Laptop to Their Future" a few years ago to empower bright young minds who will be the future leaders of our nation. Through the years, Abans have been presenting deserving students, in the age group 14-21 years with free Laptops under their CSR initiative.