---
Yasas Abeywickara - Vice President of CSSL, Dr. Dayan Rajapakse - President of CSSL, Minister Eran Wickramarathne, Prof. Ashu Marasinghe and Shanil Fernando at the CSSL Awards 2016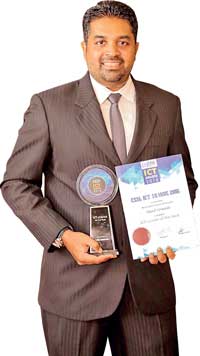 Shanil Fernando, Co-founder, SVP & Managing Director of CAKE LABS, was named the ICT Leader of the Year 2016 by the Computer Society of Sri Lanka (CSSL). The CSSL (established in 1976) is the apex body representing Sri Lanka's IT Professionals.

Every year it recognizes key individuals and businesses that have taken the Sri Lankan IT industry forward. The awards ceremony was held at the Galadari Hotel in line with the inauguration of the 2016 National IT conference of Sri Lanka. The ICT leader of the year award is the most prestigious award of the categories and was presented by Honorable Minister Eran Wickramarathne.

Shanil's career is one that has repeatedly reflected his comfort with risk; he joined the company that would eventually become Virtusa when it had less than 15 employees; and having spent a considerable number of years with Virtusa in the US, consulting with fortune 500 enterprise businesses he left it at its height and founded Latitude655; the consulting company in which the idea for the CAKE restaurant technology platform would first be born. He then made the choice to close down the highly profitable consulting business and focus solely on CAKE when he saw its potential.
CAKE is a Silicon Valley based company that creates disruptive technology for the restaurant industry. CAKE LABS is the engineering and operations engine behind the integrated restaurant technology platform CAKE.

Shanil was named in Echelon's 40 under 40 lists of most important risk takers, job creators and rule breakers. Risk is something that has enormously paid off for Shanil, as he became Virtusa's youngest Vice President at age 32 where he led a team of over 3000, and helped lead CAKE to its acquisition in 2013 by the World's Largest Food Services company Sysco (NYSE), the fortune 50 giant. Today the CAKE platform powers over 5000 restaurants across the United States; processing over US$ 1 billion in transactions annually.
As of August 2016, Shanil has been a part of the IT industry for 20 years. An industry in which he has been a significant change agent, most recently pushing for Sri Lanka to move away from just IT services and focus instead on product development. Comparing Sri Lanka to other smaller nations with vibrant tech industries such as Ireland and Israel; he has been a proponent of the idea that Sri Lanka too can create enormous value in a short period of time through creating tech products, an idea that he continues to demonstrate through the growth of CAKE and CAKE LABS