---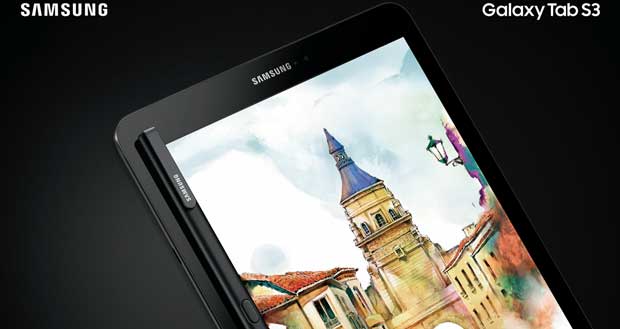 In keeping with its concept of adding value and improving the engaging aspects of its much-acclaimed devices, Samsung will be launching the Samsung Galaxy Tab S3 in Sri Lanka.
The new Galaxy Tab S3 combines premium Galaxy technology with convenience and optimizes on features that make usage simple and efficient.
The Galaxy Tab S3 includes a sleek and seamless design that delivers top-end media options with the reinvented S Pen, along with a plethora of convenient solutions that promises state-of-the-art performance, packed
with high-end entertainment features.
Samsung's signature tool, the battery-free S Pen, delivers unmatched creativity and increased productivity. The S Pen boasts a fine 0.7mm tip and industry-leading sensitivity, recognizing 4,096 levels of pressure. Slide-proof and measuring just over 9mm thick, the S Pen provides a comfortable and stable grip that allows for a more natural handwriting experience overall.
The Samsung Galaxy Tab S3 is available in sleek black. The device includes entertainment features along with groundbreaking audio and video enhancements that improve its performance and gaming capability tremendously.
Together with a new and improved battery and an enhanced camera feature, Galaxy Tab S3 takes gaming to a whole new level with streamlined UX and Game Launcher. The features enable gamers to up their performance with a more enhanced experience.
Samsung Galaxy Tab S3comes with a 9.7-inch, Super AMOLED screen, image-optimizing mDNle technology and a fast and super-efficient Qualcomm Snapdragon 820 processor that deliver lifelike HDR in 4K with a 12 hour marathon of video playback.
The multi-functional camera on Samsung Galaxy Tab S3 boasts a 13-megapixel rear and five-megapixel front. The cutting-edge sound capability of the Samsung Galaxy Tab S3 with state-of-the-art Quad Stereo-Sound Speakers along with 4GB of RAM enables exceptional clarity in sound.
Samsung Galaxy Tab S3 offers technologically superior features that improve the experience of usage considerably, while combining state-of-the-art aesthetics with functionality and efficiency.