---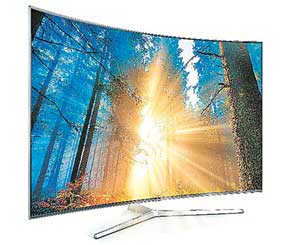 Samsung Electronics, the leader in television technology for a decade, announced the launch of 44 new models of TVs, while introducing the world's best picture quality with Quantum Dot Display technology and several meaningful innovations and beautifully crafted designs that will transform the consumer's TV viewing experience.

The 2016 line-up comprises the SUHD TV range in the premium segment, Smart TV range in the mid segment and Joy Beat range in the affordable segment. The entire range features eleven innovations across segments. Prices starting from Rs.29,990.

The new SUHD TVs with Quantum Dot Display offer Quantum Dot Colour and HDR 1000, which demonstrate groundbreaking advances in colour reproduction, brightness, contrast and details. The state-of-the-art design with the world's first bezel-less curved design and a new, easy and integrated Smart TV experience delivers an unrivalled entertainment experience.
The new range of Smart and Joy Beat televisions will come with a host of innovative features, catering to the unique needs of Sri Lankan consumers. The Smart TV range with Smart Interface, Smart Content, Smart Convergence and Smart Play provides the most advanced Smart TV experience. Also, the new Joy Beat range with a unique design and an integrated sound station with built-in tweeters will elevate your TV viewing experience.

"Samsung aims to revolutionize the concept of home entertainment with beautifully designed TVs to meet the changing needs of our consumers, depending on their budget and lifestyle. While we are introducing the best picture quality ever with Quantum Dot technology in our new SUHD range, we are also introducing meaningful innovations in our Smart and Joy Beat ranges. With these offerings, we aim to further consolidate our position as the market leader across segments," Samsung Sri Lanka Managing Director Youngmin Shin said.