---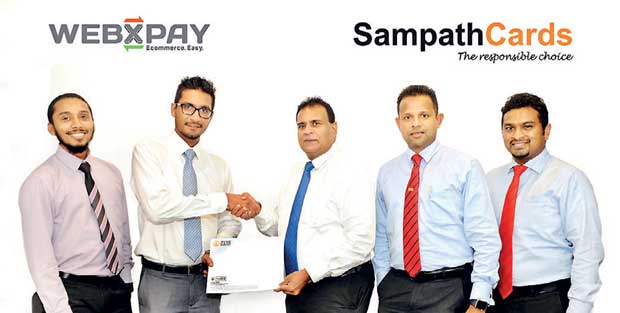 Continuing its commitment to foster growth and prosperity among Sri Lanka's vital Micro, Small & Medium Enterprises (MSMEs) sector, Sampath Bank announced a new partnership with WEBXPAY to empower merchants to sell their products and services online on instalment payments.

With well over 700 merchants already on-board with the WEBXPAY platform, Sampath Bank's tie up is anticipated to drive a rapid upsurge in business by linking them to over 250,000 Sampath cardholders to purchase their goods and services online through WEBXPAY merchants using Extended Monthly Instalment (EMI).

Commenting on this partnership, Kusal De Silva, Head of Card Centre, Remittances & Bank Note Operations, Sampath Bank said, "At Sampath Bank, we believe that the nation's Micro, Small & Medium Enterprises (MSMEs) sector is pivotal to the economy. And we take pride in serving as the trusted financial services partner of innumerable such businesses around the island.

"This partnership with WEBXPAY is yet another means by which we seek to offer greater value to the sector. We are delighted to enable merchants using WEBXPAY offer and accept instalment payments from within their websites. We look forward to seeing Sampath credit cardholders avail the interest free instalment plans on offer when shopping at these merchants."

"By creating a level playing field through cost-effective, easy-to-use technologies, we are confident that the conditions will be created for entrepreneurship and MSMEs to thrive. In that regard, the potential for improving lives and livelihoods, particularly over the medium to long term outweighs the immediate financial rewards of this platform and we are eager for Sampath Bank to further our role in supporting MSMEs to claim their fair share of the Sri Lankan market," WEBXPAY Founder/CEO, Omar Sahib said.

A home-grown Fin Tech startup that was first launched in May 2016, WEBXPAY is designed to seamlessly integrate all available payment channels within a single gateway with a view to driving a new wave of e-commerce-led growth in Sri Lanka.

"Our partnership with Sampath Bank represents another major step forward in our vision to be the face of change in Sri Lanka. Our goal for WEBXPAY is to support and empower merchants and entrepreneurs from across the island to participate in this first wave of technology-enabled growth and in this manner help Sri Lanka's MSME sector to transition into a more vibrant, cashless payment eco-system."

"In that regard, we wish to express our sincere gratitude and appreciation to Sampath Bank for choosing us as their partner to drive the positive changes we seek, both at WEBXPAY and at Sampath Bank, to effect in the lives of countless Sri Lankans whose hard work forms the backbone of the Sri Lankan economy." WEBXPAY Founder/CEO, Omar Sahib said.

Supported across all devices, the system places significant emphasis on SMEs and entrepreneurs, offering highly competitive pricing options and structured monthly payment options.