---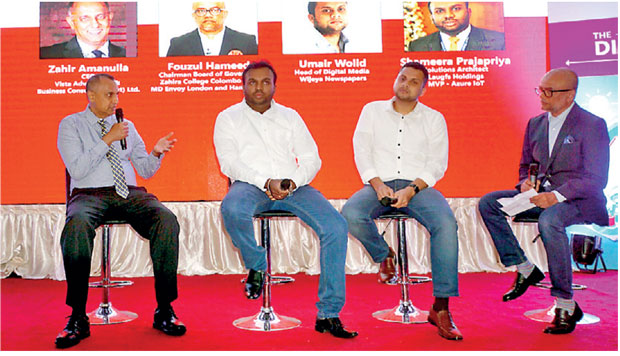 From left: Vista Advertising Business Consultants (Pvt.) Ltd CEO Zahir Amanulla; Laughs Holdings Solutions Architect Shameera Prajapriya; Wijeya Newspapers Digital Media Head Umair Wolid; and Colombo Zahira College Board of Governor's Chairman and Managing Director of Envoy and Hameedia Fouzul Hameed at the Panel Discussion
By Zahara Zuhair
Information Technology (IT) is a subject every student should embrace as it has a lot of potential with many employment opportunities locally as well as globally.

With the world moving fast towards digitalisation, and Sri Lanka aiming to be a hub for software development, IT will an ideal subject for local students to chose as their career path.

These remarks were made at a panel discussion recently organised by the Serendib Educational Foundation which was attended by students from several parts of the country.

"The world has evolved over the last 5-10 years towards ICT, where the education system has also transformed into a digital platform. Therefore, students who are leaving school have a lot of opportunities in this sector," Wijeya Newspapers Head of Digital Media Umair Wolid said. He stressed that Software development is one area that should be encouraged.

"Also there is a lot of potential in the sectors of App development, web development, and these are key areas that a parent should encourage their kids to get into" he said.

"There are so many courses available. You have to chose where you want to go. when it comes to IT it can be categorised to two sides: Software and Network side. When you come to the software world you can be a web designer, web developer, business analyst that kind of areas. When you come to the network world you can be a network engineer, or more" Laugfs Holdings Solutions Architect Shameera Prajapriya said.

"Also when you come to IT, there are a lot of designations in the world, you can even be an IT director in a company," he added.

Vista Advertising Business Consultants (Pvt.) Ltd CEO Zahir Amanulla said that IT is an area that has produced world renowned entrepreneurs like Apple's Steve Jobs, Facebook creator Mark Zuckerburg and more. He said it is a great opportunity for people who want to be an entrepreneur.

"Also graphic designing, an area vastly people can develop, to work in design areas such advertising," he said.

However, Colombo Zahira College Board of Governor's Chairman and Managing Director of Envoy and Hameedia Fouzul Hameed said that most schools lack basic facilities such as IT teachers and IT laboratories, which needs to be addressed. He also said that is it important to improve English knowledge which is a must when learning IT.