---
A technology workshop themed 'Standardize your data center' was recently conducted by Pan Audio (Pvt) Ltd with a host of partners, covering mission critical datacenter infrastructure components.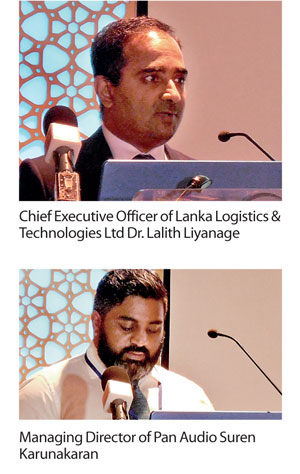 The workshop was conducted at Hilton Residencies with presenters from UpTime Institute, Siemens, DIMO, Hubbell Premises Networks, Ideal Networks, Brocade, Delta Electronics and Pentair with over 70+ participants from all key industrial verticals participated throughout the workshop. Inaugurating the session Dr. Lalith Liyanage expressed the need for standardization of the datacenters in the local context and importance of adopting industrial best practices to increase the service availability. Starting the session John Duffin from UpTime Institute highlighted the importance of datacenter standardization and services that could be offered for the customers on the datacenter certification process plus the certification programmes available for datacenter engineers. The Diesel and Motor Engineering PLC (DIMO) & Siemens presentation lead by Vaibhav Palwardhan detailed the offering from DIMO on the critical power distribution aspects and complete bouquet solutions on offer from Siemens for the datacenters. Srinivasan Badrinarayanan from Hubbell premises networks detailed the importance of adhering to industrial best practices for data center cabling as well as the importance of grounding and bonding for any server room or data center to improve equipment and operator safety.
The importance of using proper networks tools and the key benefits of using Ideal Cable certifiers were detailed by Owen Steven of Ideal Networks while cutting edge network switching solution geared for the datacenter was detailed by Prasanna Baskaran of Brocade Communications, power is critical for any environment. Deepak Thakur of Delta Electronics detailed the entire spectrum mission critical power solutions specially geared for future datacenters. Equipment enclosures and racks plays a major role in datacenter environments for hosting mission critical equipment from servers to data communications devices on this aspect Shivani Shukla and Ravikiran Gopalakrishna of Pentair Electronics (Protections) provide a high level overview of the industrial best practices for Datacenter grade rack deployments and offerings from Pentair on this context.
Commenting further on the workshop Managing Director of Pan Audio Suren Karunakaran commented that this highly energized session has brought high level of awareness to the participants on elements of Datacenter Standardization and adopting industrial best practices. Senior Business Consultant Gayani Medawatta further commented that this would be a new beginning for PanInfinity (Pvt) Ltd, the systems integration arm of Pan Audio and is the first of series of workshops planned for adopting industrial best practices for ICT driven services industry in the country.