---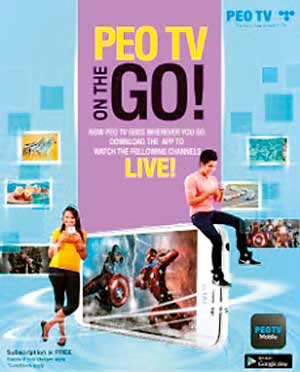 The National Mobile Service Provider, SLT Mobitel announced the innovative service of being able to watch PEO TV on Android smart phones and tabs.

All PEO TV customers can now have their favourite TV shows, Movies, Dramas on the go through their Mobitel connectionno matter where they are without missing it by simply downloading the "PEO TV GO" application from the Google Play Store. PEO TV GO provides customers a range of channels on the go including local as well as international channels.

PEO TV GO app is available for all PEO TV subscribers and the smart phone app, which is powered by Mobitel, can be downloaded by any customer on any network.

The Android app is available free of charge and Mobitel does not charge an additional subscription fee for the service.Additionally, the app can be used by logging into free Wi-Fi zones available island wide and customers can stream with no data charges. Customers simply need to download the app from the Google Play Store, register by entering the required details and then have their PEO TV live on their mobiles.