---
During an in-depth conversation with Oracle APAC Enterprise Performance Management Business Senior Director Mahadevan Natarajan, he addressed ways that CFOs can overcome current business challenges by steering their organisations through a data-driven transformation. During the interview, Maha highlighted the following key points: The changing role of the CFO – How CFOs are moving beyond financials to play a key role in business strategy and innovation; The data-driven advantage – How leading CFOs are drawing on data from multiple sources to predict market trends ahead of competitors and gain a significant competitive edge; The CFO of tomorrow – How the mindset of millennials will lead to a new type of CFO: comfortable with advanced technologies and able to break down business silos to create a truly holistic enterprise; and The new enterprise architecture – How leading CFOs will leverage emerging technologies such as artificial intelligence, machine learning and IoT applications to enable deeper, real-time predictive insights; bringing about new levels of agility and helping their businesses win in new markets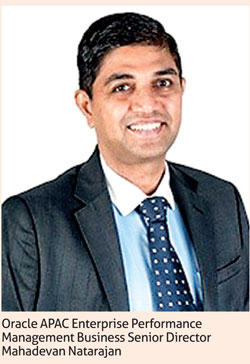 Please tell us about Oracle's business in APAC?
We're celebrating Oracle's 30th anniversary in APAC this year. We entered the region in 1986 and now operate in 25 APAC countries; serving 100,000 customers across private and public sectors. Our customers include well-known brands, and digitally-disruptive firms that are using the cloud to pioneer new business models.

What are you hearing from customers about the main challenges or trends affecting their businesses?
Macroeconomic events such as US disengagement from the Trans-Pacific Partnership (TPP) and China's slowing GDP growth are making it harder than ever for Asia Pacific businesses to plan for the future.

This uncertainty is being exacerbated by digital disruption from new market entrants with pioneering business models. According to an independent survey by Vanson Bourne, some 83 percent of executives at Asia Pacific enterprises now see disruption from digital start-ups as a threat to their business.

What are the major challenges that CFOs face in APAC?
It's harder than ever to predict what the future holds, making visibility a key challenge. CFOs need a better way to foresee external market conditions while having complete visibility of internal business performance. Linked to this challenge is the CFO's role in reacting to digital disruption. CFOs need to understand how digital technologies can enable more customer-centric business models.

CFOs are finding their role is changing fast. They're no longer simply book-keepers and accountants: the CEO and board rely on them to offer strategic input and drive innovation. A 2016 Oracle survey of finance leaders revealed that 52 percent of CFOs say their role now predominantly involves advising the business on achieving growth.

With machines now able to analyse data much more efficiently and effectively than humans, CFOs are increasingly tasked to derive actionable insights from vast volumes of data, rather than simply analyse reports. Millennials are thriving on this shift, while others may find it difficult.

What are your observations on the role of CFOs in APAC? Are you starting to see CFOs functioning in, or moving towards the future role you've described?
The current generation of CFOs are struggling to adapt. Many do not yet fully trust the findings of big data analytics. Once they place their confidence in advanced analytics, they can move forward with adaptive intelligence and automated, AI-enabled approaches to finding insights from data. This requires a shift in mindset, and CFOs need to consciously accept cutting-edge technologies.

Predictive and real-time intelligence is now imperative amongst all CFOs to retain a competitive advantage. If CFOs fail to accept this, they risk being left behind. CFOs need to make a choice now about what technology to invest in, and they must ensure the right roles are in place, including data scientists and data miners. Leading CFOs are already making these changes.

What are the qualities that will set up the CFO of tomorrow, and the businesses they work for, for success?
The CFOs of tomorrow are the millennials of today – braver in their approach, and focused on more innovative ways of accelerating business success. They are more willing to embrace the tide of digital disruption and use it to their advantage – leading their companies on a data-driven business transformation.

The CFO of tomorrow must do more with less. To get more value from the same level of resources, automation and adoption of technology will be necessary. Today's routine finance tasks should be completely automated so that resources can be more effectively used to combat disruption. CFOs must also be ready to use machine intelligence to uncover business insights and get a broader understanding of the company.

What competitive advantages can businesses gain in APAC by having their CFOs and finance departments adopt this more digital-first, data driven approach?
A data-driven approach empowers CFOs to predict future trends and make better strategic decisions. Tomorrow's CFOs will gather data from internal sources, third-party Data as a Service (DaaS) offerings and IoT devices. Armed with deeper insights, CFOs can more rapidly capture opportunities, mitigate risk and drive innovation.

The CFO of tomorrow will use data to enhance communication and understanding between business functions. Drawing on connected and collaborative data, CFOs will have a complete view of the business and external conditions. As a result, CFOs will be able to orchestrate a holistic operation, from supply chain to customer experience.

Of course, innovation is only one part of the CFO's role: ensuring financial control is still of paramount importance. Through Oracle's data-driven tools, CFOs will benefit from greater financial transparency, accountability and accuracy; helping the board mitigate risks and make better informed decisions.
Is it difficult to convince traditional finance departments to adopt a collaborative, data-driven mindset and go beyond just book-keeping?

It depends. Some CFOs are struggling to adapt. Many do not yet trust the findings of cloud based applications and adaptive intelligence, which is necessary to anticipate and create disruptions. This requires a shift in mindset – CFOs need to consciously decide to move ahead with cutting-edge technologies. Younger CFOs inherently understand technology that data-driven transformation is key to survival.

Early adopters will reach market faster and win customer loyalty through deeper insights and personalised services. They will get the best talent by offering an innovative workplace, and they will foresee market challenges and turn these into an advantage. Laggards will be forced to catch up, or be left behind for good.

Ultimately, every CFO wants an ERP solution that will simplify processes, speed up analytics and lead to better decisions. CFOs who witness the benefits of a collaborative, data-driven mindset will naturally be interested in evolving their key business processes.

Do you have any examples of work you are doing with customers in APAC that have already started to embrace this new mindset and are implementing organisational changes?

We've heard first-hand from Oracle customers about the significant advantages they've experienced through using our cloud-based ERP, EPM and SCM applications.

Advantages our customers mention most often include the agility to address fast-evolving business priorities and respond to unexpected market changes; improved forecast accuracy for better strategic decisions; real-time reporting and analytics on live financial data; and enhanced collaboration across the business. Online Singaporean supermarket RedMart is using Oracle ERP Cloud for a new way to collaborate with suppliers on a common platform; Australian advertisers APN are using Oracle's cloud financial services cloud platform to process invoice approvals three times faster; and Pearson India Education Services has improved forecasting accuracy and reduced costs with Oracle Planning and Budgeting Cloud Service.

Can you share any other local examples of how you've helped customers take advantage of data to tackle their biggest challenges and create value?

With digitisation of the construction industry, organisations are seeking unified, secure platforms from which to leverage data and rethink business models. For example, leading Indonesian infrastructure construction company Bukaka depends on Oracle ERP Cloud to access real-time data and gain visibility into finance operations across the company – ultimately delivering better data intelligence to maintain competitive advantage.

Which areas of the CFO role will be most affected by technology - and specifically cloud solutions - by the end of this decade?

CFOs will capitalise on cloud to introduce more collaboration and bring the business together. Cloud applications for ERP, EPM, SCM and more are easy for everyone to use, so diverse staff – freelances, contractors, full-time employees – can access data and work in tandem toward a common goal.

Cloud-based IoT applications will give CFOs direct access to external data; about approaching weather events, for example. Then, to make full use of the vast amounts of data available, CFOs will need to embrace adaptive intelligence applications which use machine learning to analyse the data and derive actionable insights. The role of the CFO will therefore change – from performing data analytics and compiling reports, to using technology to uncover actionable insights from data.
Are there are any major trends you expect to see in this area in APAC this year?

According to market forecast research from IDC, Asia Pacific is leading the charge for IoT globally, with around 8.6bn connected devices predicted to be installed in the region (excluding Japan) by 2020. The proliferation of IoT will drive business transformation and give CFOs access to real-time insights. This year, we expect to see APAC businesses increase their use of IoT applications to deliver data across the enterprise.

Increasingly, CEOs in Asia Pacific businesses will come from the CFO community. Today's economic uncertainty demands that CEOs – like their CFO counterparts – have a solid understanding of economic and financial matters. Moreover, as digital disruption frees the CFO to be more strategic, many of their new functions will mirror or support those of the CEO, making them the natural choice of successor. We expect this trend gather pace in 2017.