---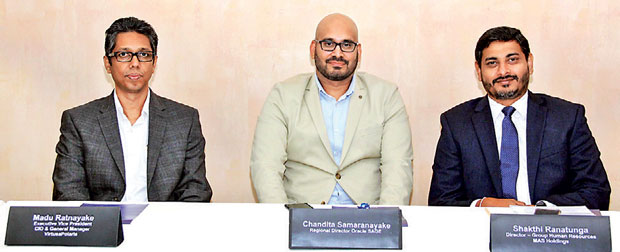 By Zahara Zuhair
Considering their success in Sri Lanka, Oracle, a global software company with their plans to expand operations in the country, recently revealed their plans to assist more Lankan companies in their journey to Cloud.

"It is evident that Sri Lanka has become an important country in the Asia-Pacific region. Sri Lanka is no more a small country when it comes to technology adaption. Our customers are mature when it comes to technology. Investments are given accordingly, we are increasing our people as well, so we can help customers in its journey to Cloud," Oracle SAGE Regional Director Chandita Samaranayake said.

He said that organisations are using Oracle Cloud applications to transform and modernise everything from customer experience to enterprise resources planning, human capital management and many more, making their business more personalised, connected and secure.

He said that they have plans to introduce Cloud's upgraded technology, for example, introducing a Cloud machine within the premises.

The advantages of incorporating Oracle Cloud as noted were; it increases business agility, lowers costs and reduces IT complexity.

At a media briefing held recently in Colombo, two of Cloud's customers Virtusa and MAS shared how Oracle Cloud applications have transformed their business and helped to capitalise on digital opportunities.

MAS Group Human Resources Director Shakthi Ranatunga said that having incorporated the technology four years ago, it has simplified their data base decision making and making analyses as they have to compete in global level.

However, he said that by installing such application human resources will not but substituted, but it helps to show their visibility because of the scale of their business.

"Being in 52 locations, across 16 countries, having 89,000 manpower, it becomes a challenge when you don't have an integrated system," he said.

He said that they believe this partnership will strengthen the delivery of their HR strategy, especially as they continue their local and international expansions.

Virtusa Executive Vice President CIO and General Manager Madu Ratnayake said that having incorporated the technology a year ago, it has benefited the company in many ways specially when it comes to the security of data.

He also said that to be ahead in the curve it is important to adopt technology and have a strong digital foundation.

"Gone are the days where finance's role was to just manage risk, execute transactions, and keep score, and HR was just about basic hiring and people management. Today forward thinking CFOs and CHROs are working together with their digital teams to create the modern digital business, and to provide best-in-class operations across all domains, so as to add value to the business and boost competitiveness," he said.