---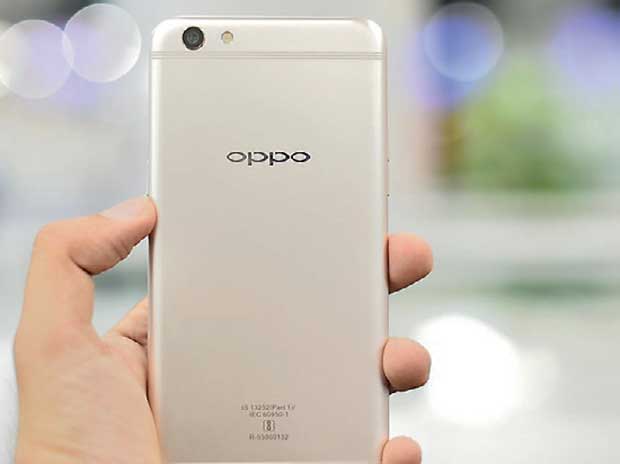 OPPO's latest smartphone, the F3 Plus 'Selfie Expert', hit stores in Sri Lanka last weekend and MirrorBusiness got a first look at the phone last week.

The cameras
The first thing that anyone who picks the F3 Plus up would notice is its main feature; two front cameras.
Backed by some interesting market research, OPPO has ventured into capitalizing on the 'group selfie' mania by including a second front camera, that is optimized for group selfies.
The 8MP 120 degree wide-angle camera captures 105 percent more area in group selfies, allowing more people and background to be included in a group selfie, while the F3 Plus also recognizes multiple faces in a group.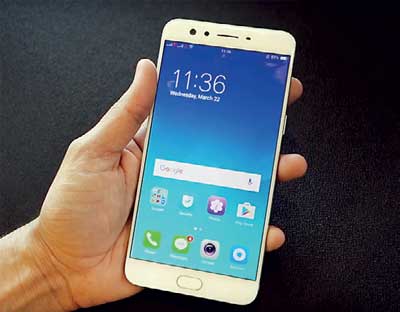 At the core of this camera is a 1/3-inch sensor, which helps increase light exposure and clarity to images. The large f/2.0 aperture allows for great depth-of-field effects with clear foreground focus matched with the perfect amount of background blurriness.
The other 16MP front camera delivers crisp selfies along with a host of special effects such as a Screen Flash, Selfie Panorama, the Palm Shutter and various others based on the Beautify 4.0 South East Asia upgrades. Meanwhile the 16MP rear camera, developed jointly with Sony felt like one of the fastest in the smartphone market to focus and capture photographs at high quality.
For those who want to add professional touches to their snaps, F3 Plus Selfie Expert offers a Professional Pixel Player. Some of its key options include the Expert Mode which allows users to concentrate on every detail of their photography, offering adjustment of shutter speed, focus, white balance and many other options. In addition to that it also offers Ultra HD, Double Exposure and Super GIF options as well.

The battery
While taking photos on a smartphone, one should always remain vigilant of the battery drain. However, the OPPO F3 Plus has a 4,000mAh battery, which could, in one word, be described as 'Big'. Various power management functions also lowers the power consumption of the F3 Plus. Even after taking dozens of snaps, the phone could be used at moderate levels with mobile data for over a workday without charging, while without data, the battery lasts for around 2 days.
For those hooked on to mobile gaming, data-heavy intense gaming for 4 hours drained the battery to only half, which is impressive, and leaves plenty of juice for day-to-day operations.
The VOOC Flash Charge system ensures rapid charging for the F3 Plus, with 5 minutes of charging offering 2 hours of talk time.

The design
The F3 Plus comes in gold and black all-metal back cases, with the gold option, which is quite eye-catching, currently available in Sri Lanka, while the black model is expected to be released later. The phone is quite slim, but with the 6-inch screen which has 2.5D Corning Gorilla Glass 5 and a pre-applied protective screen , it should be probably be classified as a phablet.
The large real estate ensures a more immersive experience when taking photos or gaming, but for those with smaller hands and used to smaller phones, operating the F3 Plus and especially texting may be hard with just one hand. However, the bragging rights of the large screen, and the utility offered probably more than makes up for this. OPPO has also installed the back button on the right, while in some apps such as the Opera browser, the controls may be in slightly different places, which would require a week or two for a user to get used to, if transitioning from a vanilla android or other brands of smartphones.
The fingerprint scanner meanwhile reacts instantaneously at 0.2 seconds, and can be used to unlock both the phone launch applications.

Inside
The F3 Plus runs on Android 6.0-based OPPO ColorOS 3.0 which includes many OPPO-designed apps replicating the vanilla Android apps for music, photos, videos and an app store. The phone is quite responsive with its octa-core Qualcomm MSM 8976 processor and the 4GB of RAM, while the 64GB internal storage can be complimented with up to 265GB through microSD.
The phone also includes a nifty toolbox with an in-built file manager, an Avast-based virus scanner. And a privacy protection feature.
Overall, the OPPO F3 Plus is quite impressive, and should be a welcome choice for those interested in taking photographs and selfies. The longetivity of the battery, the great performance and the large screen also make the F3 an all-rounder suitable for a wide variety of tastes.