---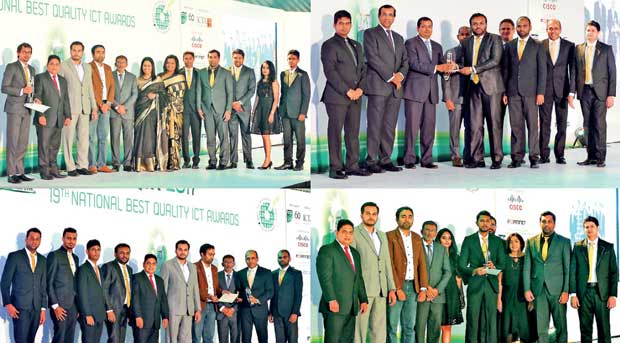 Laugfs IT claimed five prestigious awards at the 19th National Best Quality Software Awards (NBQSA) 2017.

Laugfs IT won the BCS Chairman's Award for the second consecutive year for submitting the most number of innovative ICT products to NBQSA during the year.

Laugfs HRIS, the Group's HR operations system clinched a Silver Award. Laugfs HRIS has enabled Laugfs to proactively manage HR operations while focusing on strategic business initiatives. It includes a robust set of best-in-class human resources functionality that enables increased productivity, core HR functions and HR Analytics to help realize the full potential of its workforce.
Laugfs won the Bronze Award for the Laugfs iDoC, a web-based application which tracks the Group's monthly management accounts, board meeting content and approvals. The Organizationwon two Merit Awards for the Laugfs e-forms, a user-friendly document management system, and Laugfs 'Indana' Forecourt Automation System (i-forecaus), a comprehensive automated fuel management solution for operators of retail gas stations.

Organized by the Sri Lanka Section of the BCS-The Chartered Institute of IT, the annual National Best Quality Software Awards creates an opportune space for individuals and organizations in Sri Lanka to win high honours and recognition for innovation in developing ICT products.

"It is an honour to have won five awards at the 19th NBQSA competition. The Chairman's Appreciation Award won for the second consecutive year is a tribute to our efforts to enhance the ICT framework in all areas of business functions and reaffirms our dedication to steer organizational development using innovation and technology.

This valuable recognition will further invigorate the IT team's drive to pursue increased efficiencies and value. We will continue our unwavering commitment to engage in extensive research and development to innovate and provide further improved ICT solutions to all our stakeholders," commented Laugfs Holdings Group Chief Information Officer, Indika Gunawardena.
Commenting on the recognition that his team received at the NBQSA 2017, Laugfs Holdings Group Head of IT, Rajeeva George said, "This honour belongs to the entire IT team whose dedication to research and development and the collective wish to explore innovation in developing ICT solutions are admirable. At present, our key aim is directed at taking these home-grown solutions to a global platform in order to create a viable space for Sri Lankan products to create an impact in the international market."

Laugfs is one of the largest diversified business conglomerates and a trusted name in Sri Lanka. Founded in 1995, Laugfs today has expanded across 20 industries in Sri Lanka and overseas, establishing a strong presence as a leader and pioneer in the power and energy, retail, industrial, services, leisure, logistics and real estate sectors. With over 4,000 employees and an annual turnover exceeding Rs.28 billion, Laugfs continues to expand and empower millions as a trusted Sri Lankan brand.