---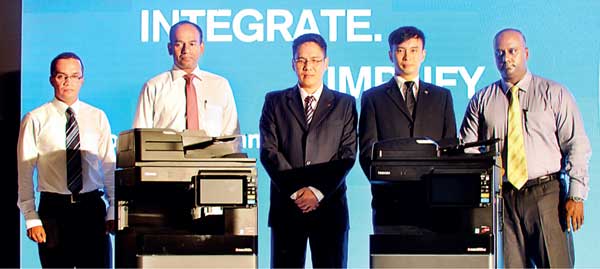 Toshiba Tec Singapore Regional Manager Philip Wu, JKOA Head of Marketing and Business Development and John Keells Group Assistant Vice President Malik Edwin and other representatives launching the newest line of MFPs
Pic by Waruna Wanniarachchi
By Supun Dias
John Keells Office Automation (JKOA) in association with Toshiba Tec introduced the newest e-Studio series to its multifunction printers (MFPs) line with five new products.
The new MFP lineup includes the three-colour MFP series and two monochrome series, all of which feature a new platform design as well.

The products were launched at an event held at the Atrium, Cinnamon Grand Hotel recently.
The MFPs blend a newly-engineered software and advanced hardware set to address the print, document management and workflow needs of virtually any business application. These features are designed to help organisations operate more efficiently and cost-effectively while improving workflow.
The Embedded Application Platform makes it possible for the MFPs to easily use embedded or third-party applications and connect to the cloud-enabling mobile users to work anywhere and provides the flexibility to accommodate any user's unique workflow needs.
"We want to maintain our market leadership in the country. With this newest MFP range, it will cater to any office need. Our latest e-Studio line represents our most innovative and intuitive MFPs to date," Toshiba Tec Singapore Regional Manager Philip Wu said.
"Understanding that every industry has unique needs, we integrated state-of-the-art and customizable technology into our new MFP line to meet the complex demands of today's business users," he added.
Speaking at the event, JKOA Head of Marketing and Business Development and John Keells Group Assistant Vice President Malik Edwin said that the newest MFPs blend a newly-engineered feature set to address the print, document management and workflow needs of virtually any business application.

"We are very happy to be strengthening our 23-year association with Toshiba in Sri Lanka with this launch," he noted.

The e-Bridge controller's colour profile tool allows for the creation of profiles to adjust colour for varying media types, lighting or to match specific Pantone colours.

The DSDF helps users complete even the most challenging of projects by delivering up to 240 images per minute while holding as many as 300 sheets at a time.
Toshiba's advanced e-Studio models feature a more durable and reliable engine to maximize uptime and reduce the total cost of ownership.

A new sophisticated black matte look completes the new products' innovative design while complementing even the most contemporary of business settings.