---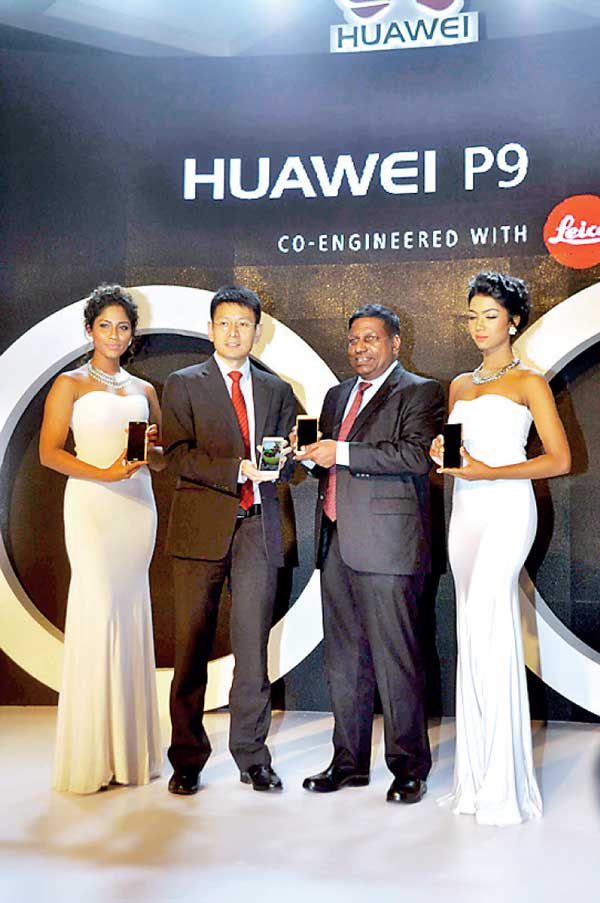 Huawei Sri Lanka CEO Shunli Wang and Singer Sri Lanka PLC Group CEO Asoka Pieris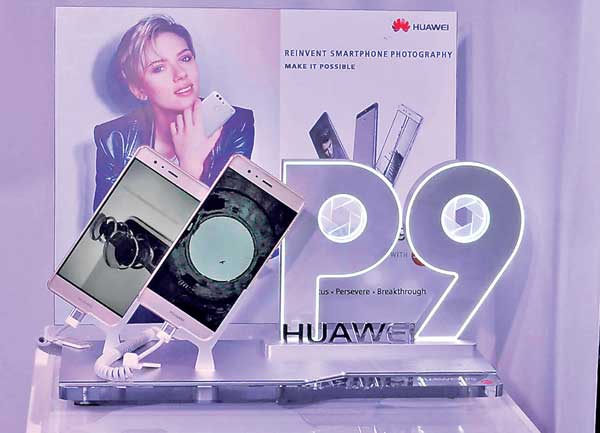 By Zahara Zuhair
Huawei's latest smartphones are defined as 'a camera with the feature of taking calls' and where the professional photographers could replace their cameras with a smartphone camera.
Giving the opportunity for Sri Lankan consumers to experience this, Huawei P9 and P9 Lite was unveiled to the Sri Lankan market recently, by Huawei with its local distributer Singer Sri Lanka.
The special feature of the latest phone is it has a dual camera set up in the back. It allows users to capture both vivid colours and black and white images.

The RGB camera on the P9 specialises in capturing colour and the monochrome camera is at acquiring picture detail.

Speaking at the launch, Huawei Device Sri Lanka, Ding Chao said that Huawei P9 reinvents the smartphone photography, co-engineered with the global iconic brand Leica camera AG.
He said that Leica image quality unimaginably gives sharpness, colours and clarity. "It has better facial tone, sharper and richer colour," he said.

He said that Lieca film mode has three different styles which are; standard, vivid and smooth.
Chao said that it has stunning display with the world's first smartphone display using Hollywood movie colour gamut system.

Noting that Huawei is constantly striving for perfection, he said that every camera in the series is a perfect work of art manually, adding that it has a 3,000mAh large battery.
Comparing to galaxy S7 and iPhone 6S, he said that Huawei P9 is the slimmest phone up-to date and it has no camera bump.

Huawei Devices Sri Lanka Country Head Henry Liu said that Huawei is the number two brand in Sri Lanka and has seen a 23 percent growth last year.
Singer Sri Lanka PLC Group CEO Asoka Pieris said that P9 brings together best-in-class hardware and software for the discerning user in Sri Lanka.
Furthermore, Sri Lankan singing duo Bathiya and Santhush were appointed as Huawei Sri Lanka digital brand ambassadors at the event.

Expressing their thoughts on the product , they said that this is the ideal product for them to capture pictures in low-light conditions during their concerts.
"Nowadays taking photographs has been a part of life, that is the digital revolution. With an instrument like this you can capture pictures like a proefssional photographer," One of the singers said. The phones come in three colours in gold, silver and black and will be priced at Rs. 75,999 (Huawei P9) and Rs.39,999 (Huawei P9 Lite), respectively.

Huawei brand, headquartered in China was founded in 1987 and Leica is a German company which manufactures cameras and sports optics products, founded in 1914.
Pix by Waruna Wanniarachchi