---
At the 2017 Global Antenna Technology and Industry Forum recently held in Munich, Huawei partnered with Telefónica Deutschland to launch the world's first 5G-oriented antenna deployment solution.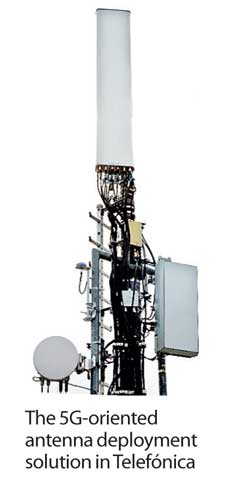 During the evolution to 5G, this solution can resolve the challenge of insufficient antenna installation space for the deployment of both high-band 4T4R over Sub 3 GHz and massive MIMO.
Insufficient antenna installation space has emerged as an evident issue of network deployment during the evolution from 4G to 4.5G/5G. As 700 MHz, 1400 MHz and other new spectrums are distributed, full bands 4T4R has emerged a mainstream configuration. Simple overlay can hardly meet deployment requirements.

Additionally, operators are expected to reserve antenna installation space for massive MIMO to implement a smooth evolution. As a result, a single antenna that integrates all Sub 3 GHz bands and reserves space for massive MIMO is set to be a typical antenna solution for 5G.

Huawei and Telefónica Deutschland jointly release 5G-oriented antenna deployment solution, which incorporates both a 14-port multi-band antenna and a TDD 3.5 GHz Massive MIMO antenna to meet Telefónica's requirements for an easy network evolution towards 5G.

Jaime Lluch, Radio Access Network Director in Telefónica Deutschland indicated that, "Telefónica is a top global telecom operator committed to deliver an optimal network experience. We believe that during the future-oriented network evolution of MBB, antenna installation space severely hinders the progress of network deployment. Telefónica Deutschland and Huawei's 5G-oriented antenna deployment solution can address the challenge of insufficient space, while ensuring excellent network performance and capacity".

Joyee Zhang, President of Huawei Wireless Network Antenna Business Unit, emphasized that, "Based on many years of technical accumulation in wireless networks and an in-depth understanding of MBB network, Huawei cooperates with Telefónica Deutschland to release the world's first 5G-oriented antenna deployment solution. This innovative solution can help operators to overcome the obstacles of 5G network deployment and potentially further help to achieve new business success."