---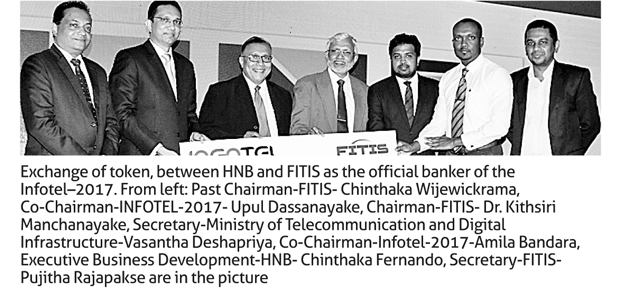 Hatton National Bank (HNB) has come forward to partner with Infotel -2017 as the official banker.
Organized by the Federation of Information Technology Industry Sri Lanka (FITIS), Infotel is South Asia's oldest and most prestigious Information and Communication Technology (ICT) exposition. This year's event is scheduled to be held from November 1st to 5th at the BMICH in Colombo, under the theme 'Towards a Digital Economy'.

Expressing his views on the tie-up, Dilshan Rodrigo, Chief Operating Officer, Hatton National Bank, observed: "We believe that Infotel is one of the main exhibitions that showcase the local IT industry and as a bank we are also pursuing a journey of digital transformation. Our interests are closely aligned and we believe procuring the right technology is key to our success. Customers today are leading increasingly digital lifestyles.

"The mobile phone has become an essential accessory and a lot of their activities–news, entertainment, social networking, and conferencing among other areas happen on the mobile phone. So why not banking? Despite this being an easy question, to deliver this requires significant investments in technology and how we work. Engaging closely and building alliances with the ICT industry in Sri Lanka is a key aspect. We've identified that many of our products and services we offer would require collaborations to deliver to the local ICT fraternity. The members of Infotel, the IT companies are a partnership we have built up from last year and we expect to grow over the coming years."