---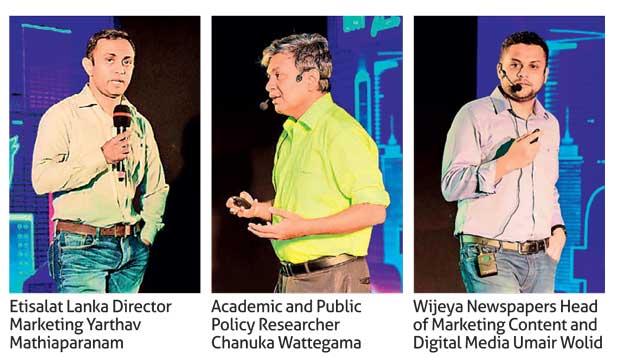 While the world celebrated the annual Social Media Day on June 30, Etisalat Lanka in partnership with Neo@Ogilvy Sri Lanka gathered the country's social media fraternity on July 9 to celebrate the hallmark event.

The day's proceedings kicked off with the Social Media Conference, which was attend by social media experts from the private and public sectors. The conference addressed the theme of the event, 'How to thrive in a world of fragmented media'.

Neo@Ogilvy Digital Strategy Consultant Mary Ann Stephens spoke about dark social and how one could get the best out of the available channels. Wijeya Newspapers Head of Marketing Content and Digital Media at Umair Wolid went on to explain whether negative publicity is actually bad publicity, while Academic and Public Policy Researcher Chanuka Wattegama visited the spectrum of online journalism and its positives and negatives.

Etisalat Lanka Director Marketing Yarthav Mathiaparanam, Rehan Almeida representing the Bar Association of Sri Lanka and Neo@Ogilvy Head of Digital Media and Digital Production Unit Amitha Amarasinghe took part in a thought-provoking panel discussion, which looked at brands, their role on social media and how they could use these tools to manage a crisis situation. The discussion was moderated by Prasanna Pathmanathan.

The much-anticipated Social Media Awards segment rolled out during the 'Meet Up' session and was hosted in the later part of the day. The nominations for the awards were gathered through the http://socialmediacolombo.com/ site over a period of a week and the nominees were adjudged by the dynamic jury panel comprising of: Antyra Solutions Chief Commercial Officer Rohan Jayaweera, Social Media Specialist Prasad Perera, Yoho Bed Chief Technology Officer Chamara Peiris, Wijeya Newspapers Head of Marketing Content and Digital Media Umair Wolid and Quantum Leap Co-founder Amithe Gamage.

The evening ended with many of the social media influencers on different platforms sharing their expertise with the community. Among the many who attended KaluMalli, Leitch Peach, ApiMachan, Noise Project and Wasthi stole the show as they shared their experiences on creating content for Facebook, YouTube, Instagram and Twitter.