---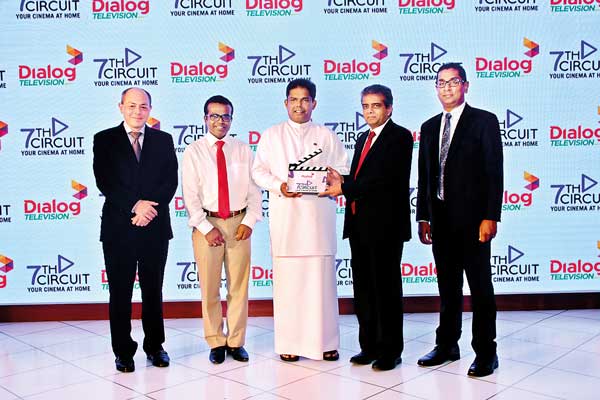 Minister of Mass Media and Parliamentary Reforms, Gayantha Karunatilleka, ceremoniously inaugurates the 7th Circuit channel with Dialog Group CEO, Dr. Hans Wijayasuriya. Also in picture are (L-R) Azwan Khan, Group Chief Operating Officer Dialog Axiata, Hon. Karunarathna Paranawithana, Deputy Minister of Mass Media and Parliamentary Reforms, and Chirantha De Zoysa, Head of Business Dialog Television.
Sri Lanka's premier pay-tv network, Dialog Television, announced the launch of its pay-per-view home theater innovation aimed at providing Sri Lankan movie and theatre producers with a platform to reach over 700,000 Sri Lankan homes.

Branded as the 7th Circuit, Dialog Television's latest channel will carry pre-cinema movie premiers to homes across Sri Lanka based on a pay–per–view model. The platform will also carry theatre and movie re-runs to match the appetite of Sri Lankan viewers for the best of indigenous creations.

The pay-per-view model adopted by the 7th Circuit enables viewers to pay for a specific programme - for example, a movie premier running on a particular day or time slot, thereby providing a viewing option very similar to the purchase of a cinema or theatre ticket for the entire household.

The 7th Circuit is a unique initiative launched by Dialog Television in collaboration with Sri Lanka's film and theatre industry. Central to the design of the 7th Circuit is the establishment of a business model and exposition platform capable of spurring creativity among Sri Lankan producers and directors, by bringing together their premier creations alongside a viewing base of over 700,000 households. The 7th Circuit was launched on 12th May.
The popular romantic drama 'Mey Wagey Aadarayak,' directed by veteran Sri Lankan director, Chandran Ratnam, was featured on 7th Circuit during the inaugural week for three days from
7 p.m. onwards.

Going forward, viewers can also look forward to popular hit movies and dramas such as 'Ahalepola Kumarihami', 'Vidhu', 'Aksharaya', 'Iniyawana', 'Gindaree', 'Let Her Cry', Address Nae', A Common Man' and 'Thani Thatuwen Piyaa Bhanna'. The '7th Circuit' will continue to present viewers exclusive premieres, live concerts and the latest productions for the silver screen, including limited content from the world of theatre – seen and aired only on Dialog Television.

"Dialog Television is proud to partner the Sri Lankan film and theatre fraternity to present a new future and experience for the industry and viewers alike. The 7th Circuit will fuel the growth of the industry infusing much needed accessibility and reach, whilst viewers would benefit with access to live and exclusive content. We are confident that the 7th Circuit, delivered based on a pay-per-view formula, will gain immense popularity within a short space of time," says Chirantha De Zoysa, Head of Business – Dialog Television. Dialog Television is the country's leading Satellite Entertainment Service Provider, and has revolutionized the pay-television sector in Sri Lanka, becoming the first operator to offer pre-paid packages.

These innovative 'pay-as-you-watch' packages with per day billing opened up premium content and satellite entertainment for everyone, demonstrating the company's commitment to inclusivity. Dialog Television provides Sri Lankan viewers with a market leading bouquet of international and local content, sports, infotainment, edutainment, news, movies and kids entertainment, with its unparalleled line-up of channel partnerships with global content providers.

The premier satellite entertainment provider offers 120 channels in SD (Standard Definition) and a further 8 channels in HD (High Definition), of which over 35 channels are available exclusively on Dialog TV, reiterating its position as the best value network. Dialog Television offers the widest HD satellite TV channels, with Nat Geo HD, Discover HD World, TLC HD, Star World Premier HD, Setanta HD, AXN HD, Star Sports HD 1 and Star Sports HD 4 making up this exclusive list.