---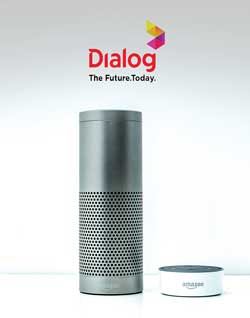 In line with its continuous efforts to advance technology and consistently provide users with a world-class customer service experience, Dialog Axiata PLC, Sri Lanka's premier connectivity provider, launched an Artificial Intelligence (AI) powered personal voice service skill to support its expansive product service framework.
For the first time in Sri Lanka, this service simplifies human interaction with voice and natural language by using Natural Language Processing (NLP), an emerging technology used by Amazon's artificial intelligence. The service is set to revolutionise selfcare experience with the addition of a futuristic yet human centered technology platform. The skill will assist users with tasks such as checking bill related information and DTV channel related information.
Along with the ability to assist users with numerous Dialog selfcare related tasks, the AI based skill is easily accessible by any customer with Amazon Alexa enabled personal voice assistant devices such as; Amazon Echo, Echo Dot, Amazon Echo Prime and Echo Show. This service is currently available to Dialog mobile users and supports the English Language. The Dialog AI based personal voice service will expand to support Sinhala/Tamil languages along with other functionalities on the award-winning Dialog selfcare app by the first half of 2018.
Users of Amazon Echo devices can experience this service by enabling the Dialog skill on Amazon's Alexa app or on Alexa's web interface by simply saying, 'Alexa, open Dialog'.
Speaking at the launch, Dialog Axiata PLC Group Chief Customer Officer Sandra De Zoysa said: "At Dialog, we constantly look for ways to enhance customer experience with every interaction, and the introduction of this revolutionary technology is a natural step in the direction of convenience and seamless operations for consumers and agents alike. With the use of Artificial Intelligence and Machine Learning we will leverage the very latest in technology when serving over 12 million Sri Lankans across the country."