---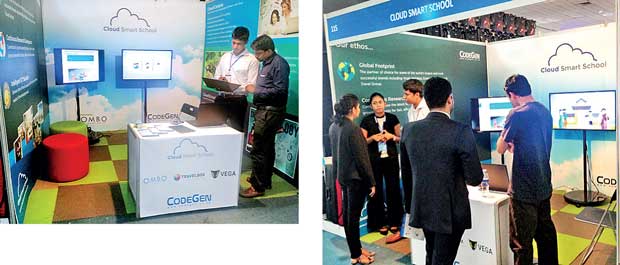 Cloud Smart School, a cloud-based institute and school management software was launched by OmboTechnologies (Pvt) Ltd., a fully owned subsidiary of CodeGen International (Pvt) Ltd. at Edex Expo Mid-Year Fair 2016. The exhibition was held at the Sri Lanka Exhibition and Convention Center (SLECC) on the 3rd and 4th of September.
The launch of Cloud Smart School educational software solution was mainly targeted at the educational institutions, tutors, specialists in the field and the general public. The features of the platform and its benefits were highlighted while, one to one demonstrations were conducted to showcase its user friendly and agile nature. The move towards cloud based hosting is a transformative step in using innovative technology to deliver a holistic education which is easily accessible to anyone-anywhere, through one single interactive platform via multiple devices. Leading educational institutions in Sri Lanka have already welcomed the Cloud Smart School management software to provide a seamlessly connected education system. This sets the stage for a collaborative learning environment enforcing a sustainable ecosystem around schools and institutions. It is vital to embrace the technological advancements and new solutions that can help the education industry to be on par with emerging trends and the market requirement.
"We launched the Cloud Smart School software at Edex Expo Mid-Year Fair 2016 in order to create awareness on how technology can enhance the learning experience of children, students as well as professionals. With continuous research and development, we believe in applying the latest technologies in order to satisfy growing demands for fast, efficient and effective solutions. The response and positive feedback received from parents, lecturers and institutions were promising," states Roshantha Adhihetty, Head of Marketing for CodeGen International (Pvt) Ltd.
Along with the Cloud Smart School solution, CodeGen International tested the acceptance of yet another unique e-learning application at the education fair. An easy and smart way to study with personalized set up and multiple resource storage options, the all new android application will be introduced to the market in October 2016. This latest addition will augment the current portfolio of Ombo Technologies focusing on enriching the education industry through technology.
CodeGen International, is a proven, agile and leading travel technology provider of the next generation end-to-end software solutions and reservation systems for the global tourism industry.By entering the educational landscape, the company hopes to expand its offerings to many other industries in the future.