---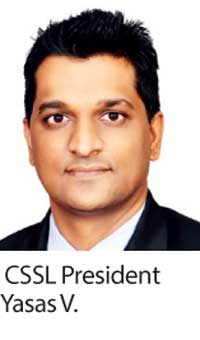 Computer Society of Sri Lanka (CSSL) has announced that they are offering support and resources for Tech Startups as a new initiative.
The Resource Center which is within their existing office in Colombo 7 will help to uplift Sri Lanka's IT Tech Startup arena to greater heights and offer talented and interested individuals the resources they need in order to pursue their new business ideas.

Established in 1976 by a group of dedicated professionals, CSSL was established to promote information and communications technology and throughout the course of over four decades in the industry, CSSL has risen as a stalwart pillar in the information and communication technology fraternity in Sri Lanka.

The Resource Center is particularly aimed at ICT tech startups and CSSL has put forward this initiative to make Sri Lanka a strong platform for tech startups and for technology talent. Speaking more on this, CSSL President Yasas V. Abeywickrama explained: "While there is a lot of talent in our country, Sri Lanka is unfortunately lagging behind in the race of innovation while other countries have played to their advantages. This is why we want to provide the platform and set the stage to uplift Sri Lanka's IT industry to greater heights and unleash the potential of our talented young people."

CSSL's Tech Startup Resource Center will provide facilities such as the board room to conduct meetings, facilities to interview staff, well equipped training centers, facilities for distinguished client meetings, and workstation space. Added benefits at the center include refreshment services, washrooms and parking space.

The CSSL will also connect experts from its membership with IT entrepreneurs where requested for expert guidance on technology related matters.

Speaking more on the initiative, Abeywickrama stated: "This new center resonates CSSL's passion for driving development of the IT industry in Sri Lanka. We understand that great ideas and talents come from collaborative work and we are confident that this new center as well as expert guidance from our membership will push the boundaries and open up a world of possibilities for the next generation technology and services."
With the establishment of this new IT resource center, more IT professionals will gain access to resources that are essential when starting a new technology business.

The focus of CSSL with this initiative is to make Sri Lanka a world leader for technology innovation and while it's early days as yet,
Abeywickrama believes that this resource center can set the foundation to build a strong tech companies in the long run. "We are in desperate need for innovative business that can go to global level but we feel that those young entrepreneurs do not have access to basic facilities and resources at affordable prices. This is why we believe that CSSL's Tech Startup Resource Center could be the stepping-stone for their success and we eagerly look forward to the prospects this initiative will offer to both, the IT industry in Sri Lanka and to all members who are involved in it, both presently and also in the future," he concluded.