---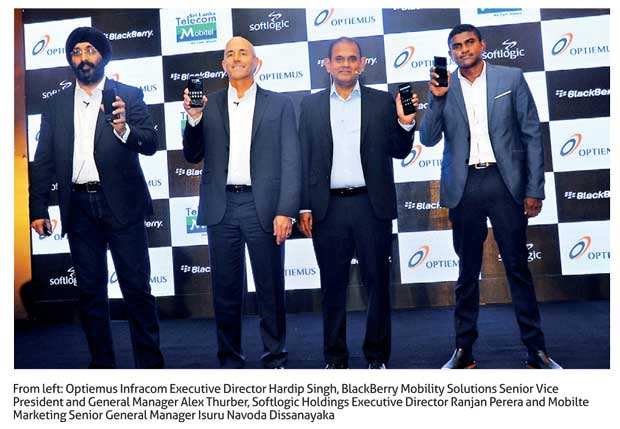 Optiemus Infracom Limited, an Indian telecom enterprise, announced its entry into the Sri Lankan market with the launch of 'BlackBerry KEYone' Limited Edition |Black recently.

Optiemus signed a licensing deal with BlackBerry in February 2017 to design, manufacture and distribute BlackBerry branded smartphones In India, Sri Lanka, Bangladesh and Nepal.

After successfully launching the 'BlackBerry KEYone' Limited Edition Black in India, Optiemus has partnered with Softlogic, to handle the distribution and retail operations of BlackBerry smartphones. Optiemus'entry into Sri Lanka supports the company's growth strategy aimed at expanding its customer base in new geographies.

'BlackBerry KEYone' Limited Edition Black is the first BlackBerry branded device locally manufactured by Optiemus Infracom under the licensing agreement. The device offers the best of BlackBerry Limited's software and security with Optiemus Infracom's commitment to deliver high-quality, reliable smartphones to tech-savvy customers in the country. The device will be available starting 20th Novemberat select retail outlets across the country.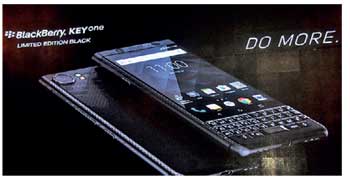 "The entry to the Sri Lanka market marks the beginning of our business expansion into newer geographies outside of India. Our endeavor is to offer highly secure Blackberry smartphones that have the best of both worlds –the convenience of Android and security of BlackBerry- to the sub-continent audience. We are confident that the customers in Sri Lanka will enjoy the 'BlackBerry KEYone' Limited Edition Black experience, as it offers unparalleled productivity, beautiful design, great camera quality and superior user interface.We have also signed Kumar Sangakkara as brand ambassador for BlackBerry Mobiles in Sri Lanka," said Hardip Singh, Executive Director, Optiemus Infracom Ltd.

Alex Thurber, Senior Vice President, General Manager, Mobility Solutions at BlackBerry said,"We would like to congratulate our partnerOptiemus Infracomand Softlogicon the launch of the 'BlackBerry KEYone' Limited Edition Black. It is very exciting to see our ecosystem of software licensing partners working together tobring BlackBerry-branded smartphones to new markets, and this latest launch shows that our licensing strategy continues to gain momentum. We have worked closely with Optiemus to ensure that the BlackBerry smartphone experience and security is intact and built into every layer of the device, offering the security and productivity that BlackBerry has always been known for."

Ashok Pathirage, Chairman of Softlogic Holdings PLC said, "We are pleasedto join hands with Optiemus Infracom to launch the 'BlackBerry KEYone' Limited Edition Black in Sri Lanka. This gives us an opportunity to offer the technology savvy audience in the country with a rich and enjoyable experience. We are very positive about the adoption of the device by our customers in SriLanka, and together we will make it a successful venture."

Nalin Perera, Chief Executive Officer of Mobitel stated Mobitel is honoured to partner BlackBerry smartphones as its Official Mobile Telecommunication Partner in launching 'BlackBerry KEYone' Limited Edition Black in Sri Lanka. BlackBerry has always been among the leaders in innovation and technology with a strong focus on security, and we believe this device will add value to our customer base, specially targeting SME and Enterprise customers. Our goal is to enable the population to access enterprise solutions that would help them increase their efficiency and productivity.