---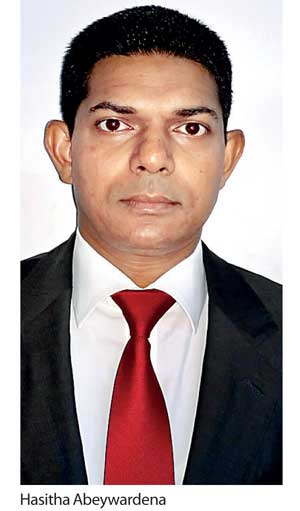 It's being called the fourth industrial revolution and has century old companies and globally renowned brands rethinking their business and communication strategies to cater to a new generation
of customers.

Two sectors in particular are tied closely to the population than any other sectors and need to be ahead of the digital transformation to stay relevant while also growing their business. The first, reaching the entire population, is the telecommunications sector, which has technology at its core and therefore is surging ahead in this era. The second, estimated to reach nearly 80 percent of the population, is the financial services institutions (FSI) sector.
While it is definitely adapting technology, only a few are seeing the bigger picture of the sector' digital transformation. Microsoft Sri Lanka Enterprise and Partner Group Director Hasitha Abeywardena discussed the financial services institution (FSI) sector's need to think holistically to truly benefit from this fourth
industrial revolution.

There is one key identifiable differentiator in how companies see digital transformation – those who bolt-on digital technologies to their main business, such as adding social media presence, mobile apps or an online payment platform versus others who think of digital as a holistic solution, rethinking the way the company uses technology to deliver better customer service and
improve revenue.

It is this strategy and not the bits and pieces of technology that ultimately drives digital transformation. Banks and other financial service providers are fast realizing that customer experience is the main competitive differentiator and that they need to leverage digital transformation to create new value propositions.

The FSI sector in Sri Lanka has embraced digital transformation and many institutions are at various stages of deployment. However, the process is still being considered a support service and an IT function and not always a business strategy. From a Microsoft perspective, this is a key reason for the conversation to move from the server room to the board room said Abeywardena, who works closely with Sri Lanka's top 30 corporate entities.
At the recently held CIO Forum, Abeywardena highlighted the importance of social analytics and showcased how Microsoft combats issues faced online regarding security by building sturdy software that enables secure storage of data.

A positive trend we are seeing today is the presence of a director IT nominated to the board of directors. It is important for a company's leadership team to understand and be comfortable with digital transformation, enabling them to integrate it into their overall business strategy. It is also important to understand the different aspects of digital transformation; social, mobile, analytics and cloud are developed in equal proportions to achieve cohesive results.

The FSI sector has three key areas that need to be considered in engineering its digital transformation. First, how digital transformation is relevant and will benefit the end consumer. Most FSI companies focus on the core business applications and tend to overlook the need for support applications. For example, the loan application process requires a physical file to be sent to all relevant officials for approval. A number of FSIs are using applications like Microsoft SharePoint to simplify the loan approval process by digitizing the workflow and the approval with digital signatures. This is not within the core banking applications but can contribute significantly to the profitability and service level of the institution.

Second is the software environment available to the employees of each institution. This is as critical as the core business applications as it relates to the daily operations of the institution, including all its correspondence, possibly record-keeping and planning. Today we have collaborative platforms such as Microsoft SharePoint and Skype for Business that offers companies a great way to allow their staff to have meetings online and share files and other information in real time.

Applications such as PowerBI offer allows the management team to visualize the data in real time and collaborate with each other online. Even everyday applications such as Microsoft Office are used extensively in most organisations and offer enhanced security features such as Advanced Threat Protection, which scans each document for potential vulnerabilities, allowing institutions to create a secure working environment.
Hence, it is important that companies enable regular updates to programmes in order to truly benefit from these features. In addition, keeping up to date on the Microsoft Office platform can also help employees achieve increased productivity, especially with the series of new tools available which provide a collaborative workspace.

Third, is the continually reducing cost of support services and this includes the cost of IT solutions. Companies are looking for cheaper or even free solutions to manage escalating costs, but overlook productivity in the process. By deploying the most current IT solutions companies can be more agile in their decision-making, take more risks and reduce staff costs, contributing to an overall cost reduction.
Sri Lanka's FSI sector can grow at a far greater pace with a carefully thought-out digital transformation strategy and truly become a financial hub for the region. World Economic Forum Founder and Executive Chairman Klaus Schwab in a recent post said, "We stand on the brink of a technological revolution that will fundamentally alter the way we live, work and relate to one another. In its scale, scope and complexity, the transformation will be unlike anything humankind has experienced before."

To survive, companies need to adapt and adapt fast, understanding the fundamental need to be agile and build on a strategy that will see their organisations embrace the digital transformation fully and not in bits and pieces.