---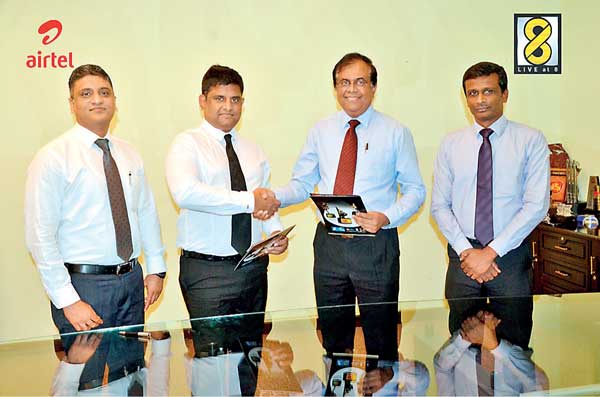 From left: Chandrashekhar Singh Chauhan – Chief Marketing Officer-Bharti Airtel Lanka, Jinesh Hegde- Chief Executive Officer/Managing Director, Bharti Airtel Lanka, Anil Kumara Meegahage - CEO EBC TV, Dylan Samuel - Director Operation EBC TV
Airtel Lanka together with Swarnavahini Live @ 8 Sri Lanka's premier news programme, launched I catcher - a citizen journalism incentive aimed at satisfying viewers demands for more instant news content.

Through this initiative Swarnavahini will invite journalists, news reporters and citizens around the country, to become part of the 'I catcher' news crew. Through whom news content will be captured via their mobile devices and un-cut versions delivered directly to the Swarnavahini news room through Airtel's 40 percent faster broadband network.

Having recognized the changing needs of its audiences for more instant and local insight led news content, Swarnavahini undertook to identify and recruit selected individuals from across the country to create a mobile news team empowered to capture events/news stories as and when it happens through mobile devices. These uncut content will then be sent to the Live at 8 news studio via Airtels 40% faster data network form different parts of the country. Thus enabling Live at 8 to continue to reinvent how news content is delivered to Sri Lankan TV audiences.
Commenting on this initiative, Anil Kumara Meegahage - CEO EBC TV said, "Swarnavahini - Live at 8 has been the highest rated news programme for the last couple of years in the country. Our ability to constantly raise the bar in the way we deliver our news content coupled with our ethos of reporting unbiased news at every given point has contributed to our leadership position. Live at 8: I-Catcher is another innovation we believe will keep us at the forefront.
However for I catcher to be successful we needed a mobile network that could facilitate up-streaming of content faster to our news room, and from every corner of the country. As such we have selected Airtel to partner us. We felt that Airtel with its smart cache technology delivered content faster and more reliably from every corner of the country. I believe this partnership will result a greater viewing experience for all Live at 8 viewers.

"Airtel has always strived to provide the best user experience in Internet for subscribers across the Island. For this purpose, we have implemented technologies that transforms the Airtel network from a simple mobile operator to a Mobile Internet organization" stated Jinesh Hegde Chief Executive Officer/Managing Director, Bharti Airtel Lanka. "In this context, I am proud that reputed corporates like Swarnavahini – who are leaders in transforming news reporting in Sri Lanka have chosen the Airtel Network to partner this revolutionized imitative. With the Airtel Network (which is now 40% faster due to Smart Cache Technology), these new generation of journalists capturing news through their mobile devices, from any part of the Island, can experience better speeds when accessing Airtel Internet services – allowing them to enjoy the best online experience across a host of activities, especially when uploading, live streaming, social networking etc."

Mr. Hegde further added "Our target segment is the Youth of Sri Lanka. We do understand that this group crave for fast and instant news. Therefore we believe that this would be the idealplatform to fulfill this purpose. I extend my good wishes towards this programme and to everyone who works tirelessly behind the scenes. I also hope that this concept of 'citizen journalism' will reach greater heights in Sri Lanka."