---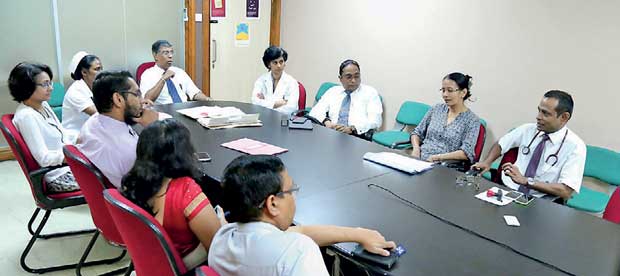 Multi award winning Lanka Hospitals PLC has introduced Multidisciplinary Team (MDT) Meeting system for blood cancer patients, a standard practice in cancer centers/ hospitals in the United Kingdom.
Consultant Clinical Heamatologist/ Heamato-Oncologist, Dr. SamanHewamana(MD,MRCP, FRCP, MRCPath, FRCPath, PhD, CCT) chairs these MDT meetings on each blood cancer patient who seeks treatment at Lanka Hospitals or those who are referred for MDT opinion from National Cancer Institute Maharagama (NCIM).
Dr. Hewamana is an imminent medical professional with a raft of research publications on Heamato-Oncology (blood cancer). He has extensive experience having worked at the Royal Marsden Hospital, the biggest cancer Centre in Europe and The Institute of Cancer Research (ICR), London, UK. He was unanimously selected as Chairman of the MDT for hematological malignancies at Lanka Hospitals. His team is complimented by renowned Oncologists in the private sector and also those from National Cancer Institute Maharagama (NCIM).
"A multidisciplinary team is a group of health care workers who are members of different disciplines (professions e.g. Oncologists, Clinical Haematologists, Pathologists, Surgeons, Cardiologists, nursing staff, Pharmacists, Psychiatrists, Social Workers, junior doctors etc.), each providing specific services to each patient. The team members independently treat various medical conditions a patient may have, focusing on the issues in which they specialize. For the first time, Lanka Hospitals has now put together this globally-tried and tested system to bring in holistic cancer patient care in an international level", stated Dr. Hewamana.
"We are now successfully implementing The Multi-Disciplinary Team (MDT) Meetings focusing blood cancer patients (leukaemia, lymphoma and myeloma)of LH, and Oncology patients in general in the near future. This internationally accepted system is in use in NHS, UK with stipulations such as a defined membership, minimum participation for a meeting to be valid, leadership, responsibilities of the chairman, and guidelines to build a successful team working culture, organizing and scheduling a meeting, preparation, co-ordination during the meeting and the process post meeting will immensely benefit local patients." stated Chairman Lanka Hospitals Dr. Sarath Paranavitane.
"This system has helped patients with leukemia; lymphoma and myeloma being treated in Maharagama, with the advantage of obtaining an opinion from a focused group on blood cancers" said Dr Jayantha Balawardena.
"The MDT system is compulsory In the UK health system where I was a part of, for many years." said Dr. Hewamana. "The activities of the team are brought together using a care plan. This co-ordinates their services and gets the team working together towards a specific set of goals. In brief, MDT is a system in which an all-round attention and care is present, where more than one brain is involved in making decisions about a cancer patient. MDTs are held every other week for each and every blood cancer patient admitted in Lanka Hospitals and for patients referred for discussion from the NCIM at present," concluded Dr. Hewamana.