---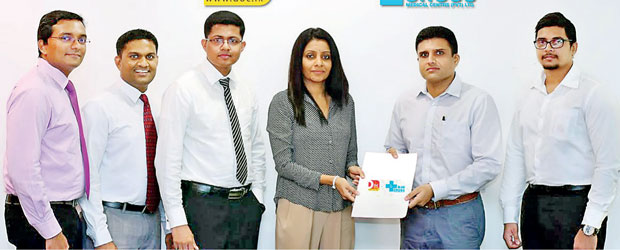 Standing from left: Rishi Ratnayake (Business Development Manager - Digital Health PVT LTD), Chamil Fernando(Associate Sector Manager - Large and Medium Enterprise – Dialog), Sameera Wijerathna (Head of Business Development - Digital Health PVT LTD), Apsara Wijayawardene (Chief Executive Officer - Digital Health PVT LTD), Kanchana Matthews (Chief Operations Officer – Blue Cross Medical Centre PVT LTD), Kanchana Perera – Executive in charge of Channeling (Chief Operations Officer – Blue Cross Medical Centre Pvt. Ltd)
Patrons of Blue Cross Medical Centre at Rajagiriya can now make medical appointments from the comfort of their home or on the go with Doc990.
Blue Cross Medical Centre joined with Digital Health Pvt. Limited and its leading healthcare partners to promote advanced digital technologies to maximize the service experience delivered to consumers of Health Care in Sri Lanka.
Customers simply need to dial 990 from any mobile network to make appointments at Blue Cross Medical Centre, whilst the cutting-edge Doc990 portal is also accessible via a Mobile App (downloadable from the Google Play Store and App Store), and via web on www.doc.lk.