---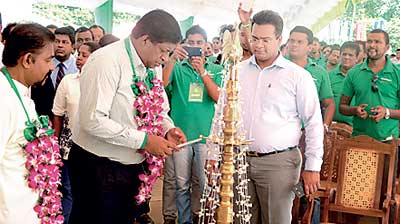 IPM Sri Lanka – the nations' premier professional body for human resources management – was the Strategic Partner for the National Youth Development Bureau's 'Rakiyabishekaya' or 'Job Fair' held recently at the Nelum Pokuna theatre premises in Colombo. Finance Minister Ravi Karunanayake was the chief guest at the event.

The objectives of the Rakiyabishekaya job fair – an initiative of Minister Ravi Karunanayake - aims to provide a better future for the youth of this country by eliminating unemployment, eliminating poverty and generating income, enabling continuous youth development, empowering human capital among Sri Lankan Youth through good mental health and economic power and providing vocational training and opportunities for skill development to build an economically gainful youth in the future.

"Youth development, skills development and empowering human capital are essential for a country's economic growth and social wellbeing of its citizens. As the premier professional body in the human resources field in Sri Lanka, we understand the value of engaging with and empowering our youth with skills and vocational training in order to make them a productive resource in Sri Lanka's emerging workforce towards achieving economic development and growth objectives," said IPM Sri Lanka President Rohitha Amarapala.

"We are indeed privileged to support the National Youth Development Bureau Rakiyabishekaya programme as its Strategic Partner in order to help uplift the youth of this country and we will support the programme in the future as well," stated IPM Sri Lanka Council Member Chandra Gannile, who was instrumental in organising the programme with NYDB.

"The Rakiyabishekaya programme has been set up under the guidance of Finance Minister Ravi Karunanayake to develop a strategic initiative to closely engage Sri Lankan youth in the country's ambitious development drive over the next decade," said National Youth Development Bureau Chairman Mohan Perera. He further stated that several other youth development programmes are lined up in major provinces of the country with the strategic partnership of IPM Sri Lanka as a national responsibility to the citizens.