---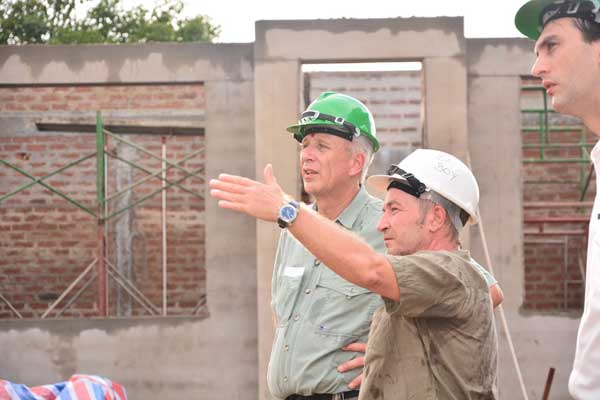 German Ambassador Dr. Juergen Morhard recently visited the site of the Sri Lankan-German Training Institute (SLGTI), a landmark project initiated by German development cooperation agency GIZ in 2012, as part of its Vocational Training in the North (VTN) project.
The SLGTI will be a national level vocational training institute in Kilinochchi. The institute functions under the purview of the National Apprentice and Industrial Training Authority (NAITA) and offers training in identified technical trades at National Vocational Qualification levels 4, 5 and 6. The SLGTI will provide war-affected youth and communities in the North an opportunity to enhance their skills according to the requirements of the current labour market.
Ambassador Morhard was pleased by the progress made in the construction of the facility and expressed confidence that the project was on track for completion by May 2016. He said the SLGTI would substantially increase the capacity to train youth in the North and enhance their employment prospects. GIZ is responsible for technical assistance, including capacity development, the provision of qualified managerial staff, teachers and trainers. Financial assistance is provided through Kreditanstalt für Wiederaufbau (German development bank - KfW) and encompasses the construction of the training centre, the supply of equipment, machines and teaching materials.
The facility will include technical workshops, dormitories for 180 trainees, staff quarters, a kindergarten and a playground.