---
Union Assurance General Limited (UAG) has identified the Bandarawela and Nuwara Eliya branches as the best performing branches as at March and April of 2016 respectively.
For Union Assurance General Limited (UAG),2015 was a year of change, with the Fairfax Group coming onboard as the majority shareholder of the company. This shift in direction has now given rise to a new business philosophy and operational model for UAG. Business growth in terms of rupee value is not the only objective UAG strives to achieve, creating business leaders from within is fundamental for business success.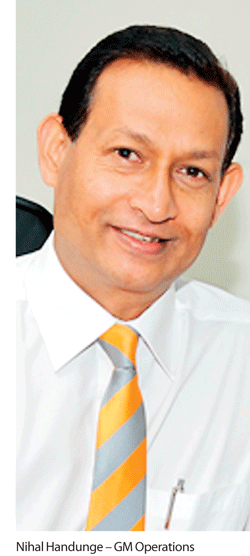 "It's nice witnessing young leadership emerge and it's brilliant when such leadership is grounded across values that go beyond production," stated Dr. Sanjeev Jha – CEO of UAG.
A resultant of this paradigm shift is the implementation of the Branch Scorecard. The branch network of UAG has always played an integral role in revenue generation. Whilst generating business volumes will continue to be a core function of the branches, the parameters of Combined Operating Ratio (COR), Net Promoter Score (NPS), Audit score and Employee Engagement will also be evaluated on a monthly basis and the best performing branches identified and rewarded accordingly. "I'm proud of the hard work put in by each and every one at the Bandarawela branch. This could not have been possible if not for the collective efforts of all of them" stated Regional Manager Nalaka Attanayaka. Further, the branch scorecard is intended to ingrain wide-ranging managerial skills within UAG's branch managers that would help mold them into better managers and better leaders. This 360 degree appraisal tool also helps UAG to go a step further in delivering a more supreme & holistic experience not only to our customers but shareholders, employees and regulators. Nihal Handunge – General Manager Operations spoke about the successful execution of this initiative among the 43 branches, he stated that"702 personnel were trained and 3.54 per capita learning hours were achieved during the period of January to March 2016. Within this time span all branch staff were thoroughly trained on COR, Risk & Compliance guidelines andthe importance of maintaining positive NPS scores"
"To be named the best branch as at April 2016 is a huge motivational factor for the team," stated Nuwara Eliya Regional Manager Chaminda Vithanawasam. "We will keep this momentum going into the future too"
Union Assurance General is now a part of the Fairfax Group, a diversified, financial services company with total assets worth US$ 42 billion, revenues of approximately US$ 10 billion and common shareholders' equity of approximately US$ 9 billion. Based in Toronto, Canada the Fairfax Group has a strong foothold in the growing insurance and reinsurance markets of Southeast Asia, USA, Eastern Europe, the Middle East, UK and Brazil.