---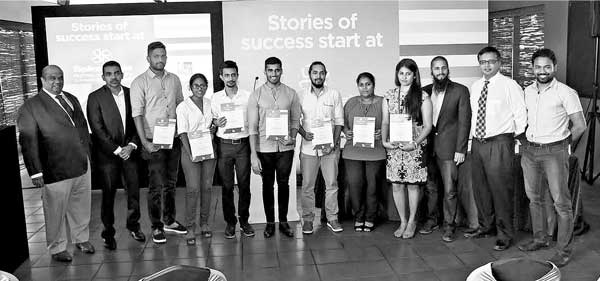 Metal Factor Ranil de Silva (left) Integrated Competition Jury Head Gian de Rose (second from left), Digital Competition Jury Head Marsh Dodanwela (extreme right), International Advertising Association Director Michael Holsinger (second from right), Media Competition Jury Head Murtaza A. Tajbhoy (third from right) along with the participants
By Zahara Zuhair
Three young Spikes teams will be representing Sri Lanka at the annual Spikes Asia Festival of Creativity, which is to be held in Singapore from 21-23 September.

The Spikes Asia, a marketing communications festival, provides the region's creative communications industry with a platform to network and exchange ideas, bringing together the finest creative thinkers from around the world.

Accordingly, Hiran and and Chevin Mandawala from Mullen Lowe, Randula de Silva and Natasha Fernando from Neo@Ogilvy and Bratheepa Puvirajasekaram and Himaya Judith Peiris will be competing in the Digital, Integrated and Media categories, respectively.
In addition to that Vikasitha Anumevan, an under graduate from the Moratuwa University too has been selected to participate in the Young Creative Academy.

The competitors were selected following the Young Spikes Competition which was conducted in Colombo last month, felicitated by Metal Factory.

Metal Factor Ranil de Silva commented that what amazed them was the highest number of participants for the competition this time, which were 108. He said that it is fulfilling to know that young professionals from a diverse cross section of agencies came together to compete at the local competitions.

International Advertising Association Director Michael Holsinger said that as 54 teams participated this time, the competition was tougher. On the other hand he said that it was really encouraging to see young people taking part and coming forward to be a part of the team to represent the country. How this competition conducted was participants were issued briefs to which they had to respond within 12 hours.

In Digital category, they were required to showcase how they could build the brand image and awareness of a food product, using digital channels and tactics.

In Integrated category, competitors were asked to create a national conversation to help take children off the streets of Sri Lanka while in Media category competitors had to use strategic media platforms and strategies to encourage Sri Lankans to increase their consumption of eggs in order to help them meet their overall nutritional requirements.

This festival is held in collaboration between the organizers of the Cannes Lions Festival and Haymarket.